October 18, 2016
Subclinical CMV Replication Leads to Lower CD4/CD8 Ratio During Suppressive ART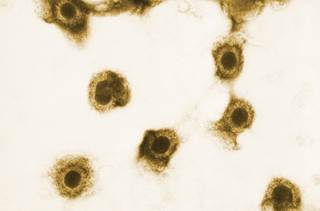 Transmission electron micrograph depicting cytomegalovirus virions in an unknown tissue sample. Photo Credit: CDC/ Sylvia Whitfield
Presence of subclinical cytomegalovirus (CMV) replication during early HIV infection is associated with lower CD4/CD8 ratio during suppressive antiretroviral therapy (ART), according to a study published in Clinical Infectious Diseases.1
Between October 1996 and October 2012, researchers collected 604 blood samples from 108 men enrolled in the San Diego Primary Infection Cohort. Participants eligible for inclusion for final analysis were men who had sex with men (MSM), recently initiated on ART for early HIV-infection, who were co-infected with CMV and Epstein-Barr Virus (EBV). All participants were CMV and EBV seropositive and started ART within a median of 4 months from their estimated date of infection (EDI), and were followed for a median of 29.1 months thereafter.
Davey M. Smith, MD, professor of medicine at the University of California, San Diego and colleagues measured levels of CMV and EBV DNA at discrete timepoints to see if presence of chronic viral infections might be associated with a lower CD4/CD8 ratio. The three covariates examined were age, peak HIV RNA, and time from EDI to ART initiation.
They found that higher levels of CMV replication were associated with lower CD4/CD8 ratio during follow-up. Interestingly, this association was driven by higher levels of CD8+ T-cells, without affecting CD4+ T-cell counts. They did not find any association between levels of EBV and CD4/CD8 ratio over time.
Younger age was the only other variable associated with lower CD4/CD8 recovery, but this finding should not be over-interpreted, since the researchers noted that there were only 9 people over the age of 50 in the cohort. Furthermore, since this was an observational study, Smith and colleagues could not determine a "causal relationship between CMV and T-cell dynamics, and the extent [to which] immune activation during HIV-infection could be a determinant of CMV shedding and CD8+ T-cell proliferation."
In an email interview with Infectious Disease Advisor, co-author Sara Gianella, MD, assistant professor of medicine at the University of California, San Diego explained that "most HIV-infected people are also co-infected with CMV and subclinical replication of CMV occurs in various anatomic sites, like for example genital secretion or saliva. This continuous viral replication is challenging the immune system over time and likely driving an expansion of the CD8+ T cells, which has been associated with adverse outcomes, even in people on suppressive ART. Future clinical trials of anti-CMV therapy or therapeutic vaccines will be necessary to confirm causality [to] assess if suppressing CMV will lead to any clinical benefit."
Reference
Smith DM, Nakazawa M, Freeman ML, et al. Asymptomatic CMV replication during early HIV-infection is associated with lower CD4/CD8 ratio during HIV treatment. Clin Infect Dis. 2016. doi: 10.1093/cid/ciw612.