April 05, 2017
Antiprotozoal Renders Gram-Negative Bacteria Susceptible to Antibiotics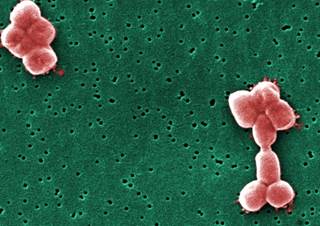 Pentamidine exhibited synergy with rifampicin, novobiocin, and erythromycin against several different phyla of Gram-negative bacteria. Photo Credit: Janice Haney Carr.
Pentamidine, an antifungal and antiprotozoal agent, sensitized Gram-negative pathogens to antibiotics normally used for Gram-positive bacteria, even in the context of acquired colistin resistance, according to a study published in Nature Microbiology.1
Colistin, a polymyxin, is the antibiotic of last resort against multidrug-resistant Gram-negative bacteria. The spread of plasmid-borne colistin resistance threatens to render even this last line of defense ineffective.1 Earlier this year, the World Health Organization (WHO) issued a global priority list of 12 antibiotic-resistant pathogens —predominantly Gram-negative bacteria — for which new treatments are urgently needed.2
The outer membrane of Gram-negative pathogens acts as a highly impermeable barrier and protects the organism from many antibiotics. Colistin resistance further enhances this insulating effect by decreasing the affinity of polymixins for lipopolysaccharide, a component of the outer membrane.1
Pentamidine, used to treat pneumocystis pneumonia and West African trypanosomiasis, can cause multiorgan toxicity and its use must be closely monitored.3 Researchers led by Eric D. Brown, PhD, and Jonathan M. Stokes, PhD, from McMaster University in Hamilton, Ontario, Canada, identified pentamidine as the agent most likely to disrupt the Gram-negative outer membrane via its interactions with lipopolysaccharide. They investigated the efficacy of pentamidine as an adjunct to conventional antibiotics against Gram-negative pathogens in vitro and in mouse models.1
Pentamidine exhibited synergy with rifampicin, novobiocin, and erythromycin against several different phyla of Gram-negative bacteria, including Escherichia, Serratia, and Acinetobacter. Although resistance to rifampicin arose in Escherichia coli, no pentamidine resistance was noted, suggesting that resistance to pentamidine does not develop quickly.1
Investigations in mouse models demonstrated marked synergy between pentamidine and novobiocin against Acinetobacter baumannii, a top-priority pathogen on the WHO list in which colistin resistance is increasing.1,2 All 10 mice infected with colistin-sensitive A baumannii survived, with total eradication of A baumannii 7 days after treatment. Although this drug combination did not eliminate infection in mice with colistin-resistant A baumannii, 10 of 11 mice responded to treatment and had complete clearance of bacteria from the spleen.1
"That we discovered an existing drug with this activity is exciting to me because of the potential of moving this into the clinic more quickly," Dr Brown said in an interview with Infectious Disease Advisor.
"We'd like to understand more about how pentamidine works on the bacterial outer membrane and we're keen to see if we can optimize this compound with chemistry to enhance its spectrum of action and reduce its toxicity," he added.
References
Stokes JM, MacNair CR, Ilyas B, et al. Pentamidine sensitizes Gram-negative pathogens to antibiotics and overcomes acquired colistin resistance.

Nat Microbiol

. 2017;2:17028. doi:10.1038/nmicrobiol.2017.28

Tacconelli E, Magrini N, Carmeli Y, et al. Global priority list of antibiotic-resistant bacteria to guide research, discovery, and development of new antibiotics. www.who.int/medicines/publications/WHO-PPL-Short_Summary_25Feb-ET_NM_WHO.pdf?ua=1

. Published February 2017. Accessed March 14, 2017.

Drug Record: Pentamidine. United States National Library of Medicine. https://livertox.nih.gov/Pentamidine.htm

. Updated March 9, 2017. Accessed March 14, 2017.