October 12, 2016
C difficile Risk Among Hospital Bed Occupants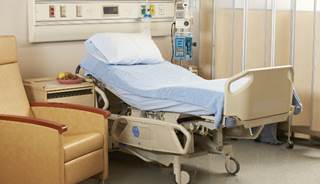 Nearly 600 patient pairs had an increased risk of Clostridium difficile infection.
HealthDay News—When a hospital patient is taking antibiotics, the next patient to use the same bed may face an elevated risk of Clostridium difficile infection (CDI), according to a study published online in JAMA Internal Medicine.
Daniel Freedberg, MD, a gastroenterologist at the Columbia University Medical Center in New York City, and colleagues studied 100,615 patient pairs. All were in 1 of 4 New York-area hospitals from 2010 to 2015. New patients had to have spent 48 hours in a bed in which the last patient spent at least a day and had left the bed less than a week before the next occupant.
The suspected connection was borne out in 576 pairs. In those cases, the later patient developed CDI within 2 to 14 days after occupying the bed, the researchers found. Average time to infection was around 6 days. And these newly infected patients were more likely to have the usual CDI risk factors—older age, increased levels of creatinine, decreased levels of albumin, and past use of antibiotics. The risk of CDI was 0.72% when the prior occupant of the hospital bed received antibiotics, compared with 0.43% when the prior occupant of the bed did not receive antibiotics. Apart from antibiotics, no other factors related to the prior bed occupants were associated with increased risk for CDI in subsequent patients. That remained the case after excluding 1497 patient pairs in which the prior patient recently had CDI.
"Antibiotics encourage the spread of C difficile from patients who asymptomatically carry C difficile to patients who are C difficile-free, even if the C difficile-free patients do not receive any antibiotics," Dr Freedberg told HealthDay.
Reference
1. Freedberg DE, Salmasian H, Cohen B, Abrahams JA, Larson EL. Receipt of antibiotics in hospitalized patients and risk for Clostridium difficile infection in subsequent patients who occupy the same bed. JAMA Intern Med. 2016; doi: 10.1001/jamainternmed.2016.6193