February 17, 2017
Fecal Microbiota Transplant Effective for C difficile in Pregnancy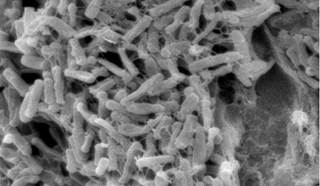 Pregnant patient presented with recurrent C difficile infection underwent a successful fecal microbiota transplant at 18 weeks of gestation. Photo Credit: CDC/Lois S. Wiggs.
HealthDay News — A fecal microbiota transplant through colonoscopy appears to be safe for recurrent Clostridium difficile infection during pregnancy, according to a case report published in the Obstetrics and Gynecology.
Bejan J. Saeedi, from Emory University in Atlanta, and colleagues describe the case of a 28-year-old pregnant woman with recurrent C difficile infection in spite of vancomycin and fidaxomicin treatment. At 18 weeks of gestation the patient underwent successful fecal microbiota transplant through colonoscopy.
The authors note that the patient reported resolution of her symptoms during follow-up one week after the procedure. For the remainder of the pregnancy, the patient no longer required antibiotics to treat C difficile. She had a term vaginal delivery at 39 weeks of gestation. At follow-up 4 months after delivery, the infant was developing normally. No further recurrence of C difficile infection was reported.
"Our pregnant patient tolerated and responded to a fecal microbiota transplant for treatment of recurrent C difficile infection," the authors write. "Future large-scale studies are needed to determine the efficacy, safety, and long-term effects of manipulating the microbiome in pregnant patients and the neonates."
Reference
Saeedi BJ, Morison DG, Kraft CS, Dhere T. Fecal microbiota transplant for Clostridium difficile infection in a pregnant patient [published online February 6, 2017]. Obstet Gynecol. doi: 10.1097/AOG.0000000000001911