May 29, 2018
Does Substance Use Disorder Affect Sustained Virologic Response to DAAs?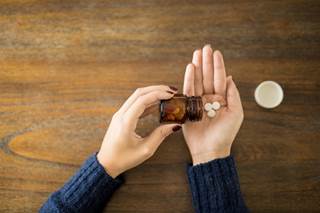 Sustained virologic response to DAAs does not appear to be affected by comorbid substance use disorder.
Although hepatitis C virus (HCV) treatment adherence is worse in patients with comorbid substance use disorders, sustained virologic response (SVR) to direct-acting antiviral agents (DAAs) is not affected, according to a multicenter study published in the Journal of Addiction Medicine.1
People who inject drugs are at a high risk for HCV infection developing,2 and the currently recommended treatment approach for HCV is the use of DAAs.3 However, little is known about whether any variables are predictors of response to DAAs in people who inject drugs.1
Therefore, researchers in France performed a retrospective analysis of 50 patients with HCV infection and a history of drug addiction who received treatment with DAAs (n=3, sofosbuvir/ledipasvir for 8 weeks; n=19, sofosbuvir/ledipasvir ± ribavirin for 12 weeks; n=20, sofosbuvir/daclatasvir for 12 weeks; n=1, sofosbuvir/simeprevir; n=7, sofosbuvir/daclatasvir for 24 weeks).
Of these patients, 42 were male, and the mean age was 46.2±7.3 years. Of the total, 38 were treatment naive, 4 were coinfected with HIV, 1 had hepatitis B, 28 had evidence of cirrhosis, and 34 were receiving opioid substitution therapy. In addition, psychiatric disease, illicit drug use, unemployment, and homelessness/precarious housing were common.
Yet, 90% (n=45) of these patients achieved SVR 12 weeks after treatment. Thus, SVR was not significantly associated with sociodemographic or virologic characteristics, treatment, social environment, alcohol/drug use, or adherence.
Although researchers found that adherence was slightly worse in this population compared with the nonaddicted population, it did not affect the SVR rate.
"In conclusion, in this population of real-world patients with HCV and opiate addiction, treatment with guideline-recommended DAAs was able to achieve SVR in 90% of patients," stated the authors.1 In addition, "No clinical, demographic, or social factor was predictive of SVR or nonresponse."
References
Trabut J-B, Barrault C, Charlot H, et al. Integrated care for the use of direct-acting antivirals in patients with chronic hepatitis C and substance use disorder [published online April 26,, 2018]. J Addict Med. doi: 10.1097/ADM.0000000000000415
Maher L, Jalaludin B, Chant KG, et al. Incidence and risk factors for hepatitis C seroconversion in injecting drug users in Australia. Addiction. 2006;101:1499-1508.
European Association for the Study of the Liver. EASL recommendations on treatment of hepatitis C 2016. J Hepatol. 2017;66:153-194.