August 01, 2018
Electronic Medical Record Reminders Improve HBV Vaccination in Diabetics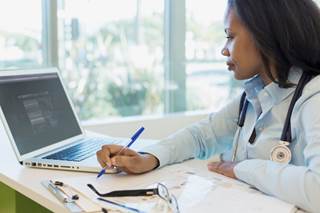 EMR provider reminders and alerts may improve hepatitis B vaccination initiation and completion in patients with diabetes.
Electronic medical record (EMR) provider reminders are highly useful for improving hepatitis B (HepB) vaccination rates among patients with diabetes, according to an observational, retrospective, cohort study published in Vaccine.1
Diabetes is independently associated with an increased risk for acute HepB infection, even among adults who are not at risk for infection. Therefore in 2011, the Advisory Committee on Immunization Practices recommended HepB vaccination for adults 19 to 59 years old upon diagnosis of diabetes2; however, studies have demonstrated that HepB vaccination rates remain low among this population.3-7 EMR provider reminders have been shown to improve the vaccination rate in elderly patients,8 therefore researchers investigated the impact of using this system on HepB vaccination initiation and completion in patients with diabetes.1
Using EMR data from Kaiser Permanente in southern and northern California, investigators compared trends in vaccine rates between an intervention site and a control site by plotting monthly rates during the study period. The researchers observed an initial steep increase in HepB vaccination initiation and completion rates immediately after the implementation of reminders, which suggested that these physician decision support tools embedded in the EMR system could affect physician vaccine ordering behavior and patient vaccine uptake; however, the vaccination rates leveled off, dropped, and remained at a lower level possibly because of a "catch-up effect" of eligible patients who received vaccination right after the intervention. Thus, the effect of such an intervention may be waning over time and a relatively longer observation period should be used in future studies.
"Our findings indicated that EMR reminders and electronic alerts had an immediate high impact on HepB vaccination rate among adults with diabetes, while additional effort may be needed to prevent effect waning over time," concluded the authors.1
References