May 07, 2018
Efficacy of Ombitasvir/Paritaprevir/Ritonavir for HCV in Chronic Kidney Disease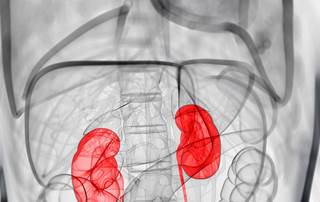 Nasopharyngitis occurred in 3 patients in the non-CKD group and 3 patients in the CKD group.
Treatment of chronic hepatitis C with ombitasvir/paritaprevir/ritonavir (OBV/PTV/r) combination therapy can yield a high sustained virologic response (SVR) rate in genotype 1b patients with non-dialysis chronic kidney disease (CKD) stage 3 to 5 that is comparable to patients without CKD, according to a retrospective, multicenter study published in Hepatology Research.1
The rate of HCV infection in patients with CKD is higher than in the general population, and HCV infection further exacerbates renal function in patients with CKD.2-4 Therefore, antiviral therapy is recommended in patients with chronic hepatitis C with CKD to preserve renal function in addition to preventing progression to liver cirrhosis and the development of hepatocellular carcinoma.5
Researchers examined 235 patients, 181 without CKD and 54 with CKD (estimated glomerular filtration rate [eGFR] <60 mL/min/1.73 m2), and found that the overall rates of rapid virologic response, end-of-treatment response, and SVR were 78.7%, 98.7%, and 98.7%, respectively.1 In patients without CKD, the rates were 77.3%, 98.9%, and 98.9%, respectively, while the rates in patients with CKD were 83.3%, 98.1%, and 98.1%, respectively, indicating that there was no significant difference between the groups. In addition, there was no significant difference between the groups in the incidence of treatment-emergent adverse events (TEAEs) or discontinuations due to TEAEs and eGFR in the CKD group did not change significantly throughout the study.
"In conclusion, the present study showed that the effects and safety of OBV/PTV/r therapy in genotype 1b chronic hepatitis C patients with non-dialysis CKD were not inferior to those in patients without CKD" stated the investigators.1
References
Arai T, Atsukawa M, Tsubota A, et al. Efficacy and safety of ombitasvir/paritaprevir/ritonavir combination therapy for genotype 1b chronic hepatitis C patients complicated with chronic kidney disease [published online February 21, 2018]. Hepatol Res. doi:10.1111/hepr.13058
Garcia-Valdecasas J, Bernal C, Garcia F, et al. Epidemiology of hepatitis C virus infection in patients with renal disease. J Am Soc Nephrol.1994;5:186-192.
Lee JJ, Lin MY, Chang JS et al. Hepatitis C virus infection increases risk of developing end-stage renal disease using competing risk analysis.PLoS One. 2014;9:e100790.
Molnar MZ, Alhourani HM, Wall BM, et al. Association of hepatitis C viral infection with incidence and progression of chronic kidney disease in a large cohort of US veterans.Hepatology 2015;61:1495-1502.
Hsu YC, Lin JT, Ho HJ, et al. Antiviral treatment for hepatitis C virus infection is associated with improved renal and cardiovascular outcomes in diabetic patients.Hepatology. 2014;59:1293-1302.