January 17, 2019
Interferon Alfa May Decrease the Incidence of Chronic HCV Infection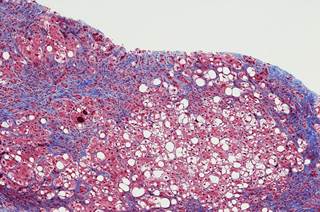 Interferon alfa may decrease chronic HCV infection.
Interferon alfa may decrease the incidence of chronic hepatitis C virus (HCV) infection as measured by sustained virological response, according to a review published in the Cochrane Database of Systematic Reviews.
In 2010, approximately 160 million people worldwide had chronic HCV infection. Acute HCV infection occurs in the first 6 months following infection with HCV. Chronic HCV infection develops in 40% to 95% of people with acute HCV infection. Optimal pharmacologic treatment of acute HCV remains controversial; therefore, the authors conducted a network meta-analysis to assess the comparative benefits and harms of different treatments for acute HCV infection. They found 10 randomized clinical trials with 488 participants that met their inclusion criteria. In these trials, no deaths occurred less than 1 year after treatment in any group, except for 1 trial where 1 participant died in the pegylated interferon alfa plus ribavirin group (1/95: 1.1%). However, in the trials in which participants were followed beyond 1 year, there were no further deaths.
They also found that the incidence of serious complications was higher for patients who received pegylated interferon alfa plus ribavirin compared with those who received pegylated interferon alfa. Yet the percentage of people with any complications was higher with interferon alfa and interferon-beta than with no intervention. None of the trials reported health-related quality of life, liver transplantation, liver failure, severe liver damage, or liver cancer. The percentage of people in whom the virus remained in the blood 6 months after the end of treatment was lower among those who received interferon alfa compared with the no intervention groups.
The authors concluded that, "Very low quality evidence suggests that interferon-alpha may decrease the incidence of chronic HCV infection as measured by sustained virological response." However, high-quality randomized trials are required to determine the clinical impact of these treatments.
Reference
Kalafateli M, Buzzetti E, Thorburn D, Davidson BR, Tsochatzis E, Gurusamy KS. Pharmacological interventions for acute hepatitis C infection. Cochrane Database Syst Rev. 2018;12:CD011644.