December 10, 2018
Can Transient Elastography Guide Post-SVR Management in Patients With Advanced Fibrosis?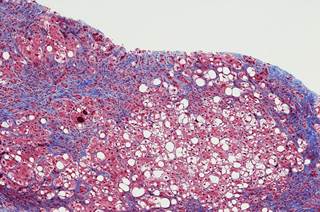 Transient elastography may not be specific enough to confirm resolution of advanced fibrosis.
Morphometry may be a more accurate measure of fibrosis regression improvement compared with transient elastography (TE) in patients with advanced fibrosis or cirrhosis who achieve sustained virologic response (SVR) following direct-acting antiviral (DAA) treatment, according to a study published in Hepatology Communications.1
TE is used to detect advanced fibrosis or cirrhosis in patients with chronic hepatitis C virus (HCV) infection,2 as well as measure improvement in liver stiffness in patients receiving DAA therapies.3-6 However, current guidelines are unclear with regard to the role of TE after SVR following DAA treatment. Therefore, researchers followed 84 patients with HCV and advanced fibrosis or cirrhosis who achieved SVR following DAA treatment to determine if TE can guide post-SVR management.1
They found that 62% had improved liver stiffness that was consistent with regression of at least 1 stage of fibrosis. In patients with cirrhosis, 48% showed fibrosis regression by TE by at least 2 stages. In patients with advanced fibrosis, 39% regressed by at least 2 stages. Median time to regression by TE was 1 year. Fifteen patients underwent a liver biopsy before and after achieving SVR, and 13 demonstrated an improvement in liver stiffness. Only 4 (31%) of these patients' post-SVR liver biopsies showed improvement to <F3 staging on pathology, indicating a discordance between the level of liver stiffness measured by TE and fibrosis regression based on liver biopsy results.
Morphometry of the first 11 biopsied patients demonstrated a 46% reduction in fibrosis with SVR over a relatively short time period and was, therefore, a more accurate measure of improvement in fibrosis regression.
The authors concluded that, "After SVR is achieved, improvements in liver stiffness measured by TE are seen in a majority of patients with advanced fibrosis/cirrhosis within 2 years."1 However, "it is unclear whether TE following SVR can reliably predict when patients no longer require advanced fibrosis/cirrhosis monitoring after SVR."
Disclosures: Paul J. Pockros consults, advises, is on the speakers' bureau, and received grants from Gilead, Merck, and AbbVie; he owns stock in Chromis and Molecular Stethoscope. Zachary D. Goodman received grants from Gilead, Intercept, Conatus, Novartis, Allergan, Galectin, and Bristol-Myers Squibb. Catherine T. Frenette consults, advises, and is on the speakers' bureau for Gilead; she consults and is on the speakers' bureau for Bayer and Intercept, and consults and received grants from Conatus; she consults for Exelixis and Wako, and advises Eisai; she is on the speakers' bureau for Bristol-Myers Squibb, Merck, and Salix, and received grants from Genfit.
References