May 01, 2018
Patients With Rheumatic Diseases Need to Be Monitored for HBV Reactivation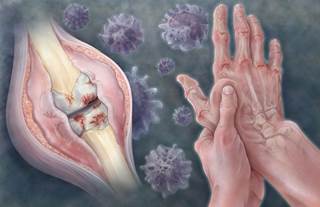 Before starting biologic therapy, clinicians should screen patients for HBV by assessing the serological markers HBsAg, HBcAb, and HBsAb. Photo Credit: Evan Oto/Science Source.
Despite the low risk for hepatitis B virus (HBV) reactivating in patients taking anti-tumor necrosis factor-alpha (TNF-alpha) agents and disease-modifying antirheumatic drugs (DMARDs), clinicians still need to monitor these patients for elevated liver enzymes and HBV DNA levels.1 Prevalence estimates of HBV include 350 million people worldwide who have the chronic disease, which causes up to 1.2 million deaths annually.1
Global Risk for HBV Reactivation
A recent global meta-analysis of 30 studies by Moghoofei and colleagues found the HBV reactivation rate to be 1.4% (95% CI, 1.3%-1.6%) in 23,301 patients treated for rheumatic diseases, primarily rheumatoid arthritis (RA).1 Reactivation rates were highest in patients with RA and in studies completed before 2012. The lowest reactivation rates were found in the studies that included the biologics etanercept, infliximab, adalimumab, and rituximab. Many of the studies originated in Europe and Asia, although the highest HBV prevalence is found in West Africa and South Sudan.1
"It seems the reactivation of HBV in rheumatic diseases, especially with anti-TNF therapy, is considerable and detecting the patients is an important part to prevent reactivation," explained Hoda Kavosi, MD, assistant professor in rheumatology at Tehran University of Medical Sciences in Iran. "This article showed that the prevalence of reactivation is higher in some rheumatic diseases and that certain biologics are more likely to reactivate HBV. Close follow-up during biologic treatment by liver function tests and viral load are essential, and clinicians should pay more attention to better follow-up screening."
Serologic testing can be confusing because patients are classified according to their HBV infection status as acute, chronic, or resolved.1 Although there are many nuances to interpreting HBV panels, active carriers of the infection are individuals with HBsAg-positive results and HBV DNA levels of >2000 IU/mL. The highest reactivation rates occurred in patients with HBsAg-positive results and the lowest in patients with HBsAg-negative and HBcAb-positive results.1 The researchers suggested that confounders such as diabetes, obesity, and liver function may also play a role in spurring HBV reactivation.1
In another meta-analysis of 25 studies, Lin and colleagues found that the overall reactivation rate was 1.6% (95% CI, 0.8%-2.6%) in patients with inflammatory arthritis whose HBV had resolved.2 The reactivation rate in patients taking TNF inhibitors, non-TNF biologics, and non-biologic DMARDs was 1.4%, 6.1%, and 1.7%, respectively. Not surprisingly, the reactivation rate was lower in patients with chronic HBV infection who had received prophylactic antiviral therapy (9.0%) vs patients who did not (14.6%). Researchers recommended screening all patients before they initiate anti-rheumatic therapy.2
Which Patients Are Most Vulnerable to Reactivation?
A Taiwanese study of 54 patients with RA sought to characterize events leading to HBV reactivation while on rituximab therapy.3 More than 80% of the patients tested HBsAg-negative and HBcAb-positive. Of that group, 4 (9.1%) experienced HBV reactivation, and the mean time from the first rituximab infusion to reactivation was 25.4 months.3
The study highlights the need for HBV vigilance, especially in patients with occult HBV infection, which may not be detected by the HBsAg test alone. "Based on the high incidence of HBV reactivation, for all rheumatic patients with occult HBV infection who are using rituximab, regular follow up with HBV DNA testing is necessary," advised co-investigator Ying-Ming Chiu, MD, attending physician in the division of allergy, immunology and rheumatology at Changhua Christian Hospital in Changhua, Taiwan. "In rheumatic patients taking rituximab who are not HBV carriers but have occult HBV infection, clinicians may be unaware of the risk of HBV reactivation."
An earlier meta-analysis of 10 studies underscored the importance of monitoring patients who have occult HBV infection.4 Cantini and colleagues sought to determine reactivation rates in patients with rheumatic and dermatologic diseases taking anti-TNF-alpha agents. Although the overall reactivation rate in the studies was 4.2% (95% CI, 1.4%-8.2%), the rate was 3.0% (95% CI, 0.6%-7.2%) in patients with occult infection and 15.4% (95% CI, 1.2%-41.2%) in patients with overt infection.4
How to Prevent HBV Reactivation
While the HBV reactivation risk is based on a patient's baseline HBV status determined via a series of serologic tests and the type of biologic therapy, clinicians can still help prevent transmission of the virus.5 Before starting biologic therapy, clinicians should screen patients for HBV by assessing HBsAg, HBcAb, and HBsAb.5
If all 3 tests are negative, the clinician should suggest an HBV vaccination. In the absence of guidelines to suggest a timeframe for monitoring patients on biologics, Chen and colleagues created an algorithm based on existing evidence. Ideally, clinicians should assess alanine aminotransferase every 3 months and if the test is inconclusive, check HBV DNA status while the patient continues to take biologic agents and consider anti-HBV prophylaxis.5 In patients with occult and chronic infections, the researchers suggested 3-month checks of HBV DNA status and obtaining a liver sonography and an alpha-fetoprotein test every 6 months.5
When prophylaxis is necessary, Nunes and colleagues recommended starting entecavir or tenofovir, and in select cases, lamivudine, 2 to 4 weeks before initiating biologic therapy and continuing antiviral prophylaxis for 1 year thereafter.6
Summary and Clinical Applicability
While anti-tumor necrosis factor-alpha agents and disease-modifying antirheumatic drugs have improved the lives of patients with rheumatic diseases, they still carry a risk for reactivating HBV. Clinicians need to monitor such patients by testing for elevation of liver enzymes and HBV DNA levels.
References
Moghoofei M, Mostafaei S, Ashraf-Ganjouei A, Kavosi H, Mahmoudi M. HBV reactivation in rheumatic diseases patients under therapy: A meta-analysis. Microb Pathog. 2018;114:436-443.

Lin TC, Yoshida K, Tedeschi SK, de Abreu MM, Hashemi N, Solomon DH. Risk of hepatitis B virus reactivation in patients with inflammatory arthritis receiving disease-modifying antirheumatic drugs: a systematic review and meta-analysis [published online December 16, 2017]. Arthritis Care Res (Hoboken). doi:10.1002/acr.23346
Tien YC, Yen HH, Chiu YM. Incidence and clinical characteristics of hepatitis B virus reactivation in HBsAg-negative/HBcAb-positive patients receiving rituximab for rheumatoid arthritis. Clin Exp Rheumatol. 2017;35(5):831-836.
Cantini F, Boccia S, Goletti D, et al. HBV reactivation in patients treated with antitumor necrosis factor-alpha (TNF-α) agents for rheumatic and dermatologic conditions: a systematic review and meta-analysis. Int J Rheumatol. 2014;2014:926836.
Chen YM, Yang SS, Chen DY. Risk-stratified management strategies for HBV reactivation in RA patients receiving biological and targeted therapy: a narrative review. J Microbiol Immunol Infect. 2017;(17)30234-30237.
Nunes J, Marinho RT, Fonseca JE, Pereira da Silva JA, Velosa J. Prophylaxis of hepatitis B reactivation with immunosuppressive therapy in rheumatic diseases. Orientations for clinical practice. Acta Reumatol Port. 2011;36(2):110-118.