July 05, 2018
Immune-Escape Mutations in Nucleos(t)ide Analogue-Exposed Patients May Lead to Drug-Resistance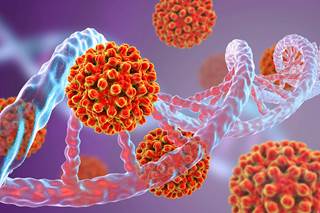 The researchers found at least 1 immune-associated escape mutation in 22.1% of patients.
Immune-escape mutations and stop-codons may develop in nucleos(t)ide analogue (NA)-exposed patients, potentially resulting in hepatitis B virus (HBV) transmission to vaccinated persons and stimulating drug-resistance emergence, according to a study published in BMC Infectious Diseases.1
Immune-escape mutations in hepatitis B surface antigens (HBsAgs)2,3 have been demonstrated to evade neutralizing antibodies, allow persistent HBV infection, and promote viral fitness.4,5 In addition, stop-codons are another type of mutation that can be detected in HBsAg, which can enhance HBV oncogenic properties.6
Researchers in Europe studied the prevalence and characteristics of these mutations in 828 chronically HBV-infected patients with detectable HBV-DNA and an available HBsAg sequence receiving treatment with at least 1 NA.1
The immune-associated escape mutations and the NA-induced immune-escape mutations sI195M, sI196S, and sE164D (resulting from drug-resistance mutations rtM204 V, rtM204I, and rtV173L) were examined.
Mutations were defined as an amino acid substitution with respect to the genotype A or D reference sequence.
The researchers found at least 1 immune-associated escape mutation in 22.1% of patients. Genotype D correlated with a higher selection of 1 or more immune-associated escape mutations, and this was significantly higher in drug-exposed patients with drug-resistant strains than with wild-type virus (29.5% vs 20.3%, respectively; P =.012).
A strong correlation was observed between sP120T and rtM204I/V, and their copresence determined an increased HBV-DNA. At least 1 NA-induced immune-escape mutation occurred in 28.6% of patients, and their selection correlated with genotype A.
Finally, stop-codons were present in 8.4% of patients at HBsAg-positions 172 and 182, which are known to enhance viral oncogenic properties.
"Immune-escape mutations and stop-codons develop in a large proportion of NA-exposed patients in Europe. These mutant isolates may potentially transmit in general population, including vaccinated individuals, and fuel drug-resistance emergence," concluded the authors.1
References