November 26, 2018
Lamivudine Prophylaxis in Patients with Non-Hodgkin Lymphoma and Resolved HBV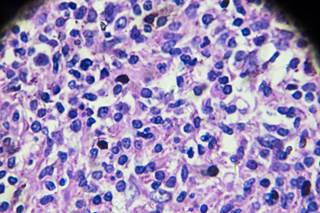 None of the patients experienced HBV reactivation or treatment-related side effects with lamivudine.
Lamivudine prophylaxis is safe and effective for preventing hepatitis B virus (HBV) reactivation in hepatitis B surface antigen (HBsAg) negative/anti-hepatitis B core antigen (anti-HBc)-positive patients with non-Hodgkin lymphoma (NHL) undergoing rituximab-based chemotherapy, according to a long-term longitudinal cohort study published in Digestive and Liver Disease.1
Chemotherapy-induced immunosuppression can cause HBV reactivation in both HBsAg-positive carriers and those with resolved HBV infection (ie, HBsAg negative and anti-HBc positive with or without serum anti-HBs).2,3 In patients with NHL and resolved HBV infection who are treated with rituximab-based chemotherapy, there is a risk of up to 24% for HBV reactivation in the absence of prophylaxis.4-7 Lamivudine may be an attractive strategy for HBV prophylaxis in these patients, as it has an excellent safety profile, is widely available and inexpensive, and there is a very low risk for resistance.1
Therefore, researchers in Italy assessed the efficacy and safety of lamivudine prophylaxis in 85 white patients with NHL who were negative for HBsAg and positive for anti-HBc and were receiving lamivudine with rituximab-based chemotherapy. The study continued for 18 months after the end of chemotherapy.1
The researchers found that during the 39 months of the study period, HBV reactivation occurred in only 1 patient. This occurred 31 months after stopping lamivudine and was not the result of lamivudine failure but was an incomplete oncologic response. A 50% decline of anti-HBs titers occurred in 35% of patients (22/63), including 12 who became anti-HBs seronegative. Five patients had an increase in alanine aminotransferase during rituximab-based chemotherapy but none required discontinuation of this chemotherapy. Seventeen patients died from tumor progression.
"In conclusion, lamivudine is an efficacious and safe prophylaxis for [white] patients with non-Hodgkin lymphoma and resolved HBV infection undergoing rituximab-based chemotherapy" stated the authors.1
Disclosures: Mauro Viganò is on the speakers' bureau for Roche, Bristol-Myers Squibb, and Gilead. Pietro Lampertico is an advisor and on the speakers' bureau for Bristol-Myers Squibb, Roche, Gilead, GlaxoSmithKline, MSD, and Abbvie. Mariagrazia Rumi is on the speakers' bureau for AbbVie and has received research grants from MSD.
References