November 12, 2018
Low Rates of HBsAg Seroclearance in Chronic HBV Infection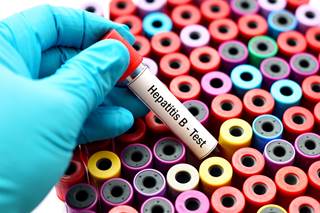 Low rates of HBsAg seroclearance were found in untreated and treated patients with chronic hepatitis B infection.
Patients with chronic hepatitis B virus (HBV) infection should receive lifelong treatment because of the very low incidence rates of hepatitis B surface antigen (HBsAg) seroclearance regardless of treatment, according to a systematic review and meta-analysis published in Gastroenterology.1
Patients who have chronic HBV infection are at risk of developing cirrhosis and hepatocellular carcinoma, and although curative therapies are not available for chronic HBV, the therapeutic goal is to achieve functional cure.2
Reported annual HBsAg seroclearance rates are currently low with available treatments; therefore, researchers analyzed 34 published studies with 42,588 patients and 303,754 person-years of follow-up to provide a more precise estimate of HBsAg seroprevalence rates among subgroups and populations.1,2 They found that the pooled annual rate of HBsAg seroclearance was 1.02%, and cumulative incidence rates were 4.03% at 5 years, 8.16% at 10 years, and 17.99% at 15 years.
Seroclearance occurred mainly in patients with less active disease, with a higher proportion of patients achieving seroclearance who were negative for hepatitis B e antigen (HBeAg) at baseline than patients who were HBeAg positive at baseline (1.33% vs 0.40%; P <.01).
Patients with low levels of HBV DNA and low quantitative HBsAg levels at baseline were also more likely to achieve HBsAg seroclearance than patients with higher levels of HBV DNA and HBsAg (P <.01). HBV genotype or treatment history with available oral antiviral therapy did not seem to have a substantial effect on HBsAg seroclearance.
"In conclusion, in this systematic review and meta-analysis, we determined that the incident rate of HBsAg seroclearance was a rare event such that by year 15 after study entry, less than 20% of patients had cleared HBsAg," stated the authors.1 Thus, "patients with chronic HBV infection should therefore be counseled on the need for lifelong treatment, and curative therapies are needed."
References
Yeo YH, Ho HJ, Yang H-I, et al. Factors associated with rates of HBsAg seroclearance in adults with chronic HBV infection: a systematic review and meta-analysis [published online October 17, 2018]. Gastroenterology. doi: 10.1053/j.gastro.2018.10.027
Lok AS, Zoulim F, Dusheiko G, et al. Hepatitis B cure: From discovery to regulatory approval. Hepatology. 2017;66:1296-1313.