September 26, 2018
Sofosbuvir-Based Regimens Safe, Effective for Chronic Hepatitis C in the Community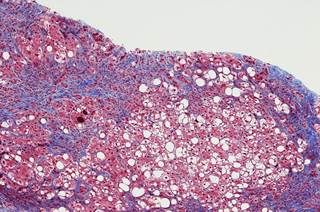 Fatigue, headache, rash, and thrombocytopenia were the most commonly reported adverse effects.
Sofosbuvir-based direct-acting antiviral (DAA) regimens are safe, effective, and well tolerated in the treatment of chronic hepatitis C infection in patients with compensated liver cirrhosis in the community, according to a retrospective study published in the International Journal of Hepatology.1
Between 3.2 and 5 million people in the United States have chronic hepatitis C infection, which can progress to cirrhosis, hepatocellular carcinoma, and death if left untreated.2,3 Treatment of chronic hepatitis C with DAAs has been shown to be highly effective in clinical trials,4 but there are limited data available on the safety, tolerability, and efficacy of DAAs in the real-world community care setting. Therefore, researchers analyzed 112 consecutive patients with chronic hepatitis C and concurrent compensated cirrhosis who were treated at a community clinic in New York with sofosbuvir-based DAAs for 12 to 24 months between January 2015 and December 2017.1
They found that a sustained virologic response at 12 weeks post-treatment (SVR12) was achieved in 90% of patients (89.7% in the lepidasvir/sofosbuvir group with or without ribavirin and 92% in the sofosbuvir/velpatasvir group). Age, sex, body mass index, baseline HCV viral load, HCV/human immunodeficiency virus coinfection, type of genotype, and prior treatment status did not affect SVR12. Of interest, thrombocytopenia was associated with a lower SVR (P =.02). While the most common adverse event was fatigue (35%), no patients discontinued treatment due to adverse events.
"In the community care setting, Sofosbuvir-based DAAs are safe, effective with high overall SVR, and well tolerated in patients with [chronic hepatitis C] with compensated liver cirrhosis," concluded the researchers.1
References