March 08, 2017
Anti-HBs Protect Against HBV Reactivation During Chemotherapy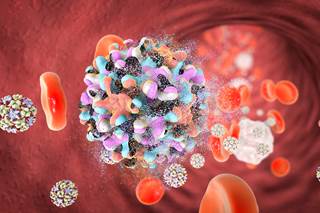 Future studies should examine titers of anti-HBs to determine whether there is a specific threshold that is required to prevent HBV reactivation.
A new article published in Hematology linked hepatitis B surface antibodies (anti-HBs) with reduced reactivation risk in individuals with resolved hepatitis B virus (HBV) undergoing chemotherapy for the treatment of hematological malignancies.1
This risk for reactivation in this scenario has become a growing area of concern in recent years, as it can lead to liver failure and death, in addition to causing delays in treating the cancer. The American Gastroenterological Association Institute issued guidelines in 2015 regarding the prevention and treatment of HBV reactivation during immunosuppressive drug therapy.2
Patients with chronic HBV infection whose malignancies are treated with rituximab or bone marrow transplantation have the greatest reactivation risk (30% - 80%).3 Although those with resolved HBV infection also carry the risk for reactivation (up to 16%), some findings indicate that anti-HBs may protect against reactivation, although other data have been conflicting.4,5
To determine whether the presence of anti-HBs decreases the risk for reactivation in this patient group, the authors of the current paper performed a systematic review of the literature and meta-analysis of 20 relevant studies that included a total of 1672 patients who did not receive antiviral prophylaxis.
Their findings revealed the following associations:
In the 388 patients with antibodies to hepatitis B core antigen (anti-HBc), the risk was 14% (95% CI, 9.4%-19%).
In the 1284 patients who also had anti-HBs, the risk was 5.0% (95% CI, 3.0%-7.0%).
Patients with anti-HBs had a reduced risk vs those with hepatitis B core antigen only (pooled odds ratio [OR], 0.21; 95% CI, 0.14-0.32).
A similar level or risk was observed when the analysis was limited to rituximab chemotherapy (OR, 0.19; 95% CI, 0.11-0.31) and lymphoma (OR, 0.18; 95% CI, 0.11-0.28).
Some members of the same research group previously found that HBV reactivation also occurs with chemotherapy for solid tumors such as breast cancers, as well as hematologic or liquid tumors.6
"Further attempts need to be made to universally screen these individuals for hepatitis B prior to receiving chemotherapy" to minimize the risk for negative outcomes, coauthor Sonali Paul, MD, an assistant professor at the University of Chicago Department of Medicine, told Infectious Disease Advisor.
Future studies should examine titers of anti-HBs to determine whether there is a specific threshold that is required to prevent reactivation; this has not yet been investigated. "In addition, the role of hepatitis B vaccine to boost immunity also merits further attention," she said.
References