April 03, 2017
Early HBsAg Decline Predicts Entecavir Response in Chronic HBV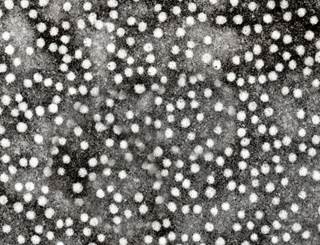 Early decline in HBsAg levels predict entecavir treatment response in chronic HBV genotypes B and C. Photo Credit: GrahamColm at English Wikipedia, via Wikimedia Commons.
A prospective cohort study published in Scientific Reports found that early reductions in hepatitis B surface antigen (HBsAg) levels predict the response to entecavir therapy in genotype B-infected or C-infected patients with chronic hepatitis B (HBV).1
Treatment response to peginterferon can be predicted by the absolute reduction in HBsAg levels, as well as the decline in levels after 3 or 6 months of treatment, in hepatitis B e-antigen (HBeAg)-positive and -negative patients, respectively.2,3 In nucleos(t)ide analog (NA) therapy, this reduction is slower and less pronounced.4 In HBeAg-positive patients, HBsAg loss is associated with a rapid decline in HBsAg levels during the first year of treatment with telbivudine (≥0.5 log10 IU/mL at month 6 or ≥1.0 log10 IU/mL at month 12), and a reduction of ≥1.0 log10 IU/mL at week 24 of tenofovir therapy.5,6
However, the kinetics of HBsAg levels in early NA treatment, as well as optimal cutoffs and time points to define HBsAg reduction during treatment, remain unclear. In addition, the link between "early HBsAg decline and the therapeutic outcomes during long-term NA treatment is controversial," wrote the investigators.
They aimed to clarify these points in 529 NA-naïve chronic HBV patients with genotype B or C who were treated with entecavir. Of this sample, 195 patients were HBeAg-positive, and 334 were HBeAg-negative.
During the median treatment duration of 49.2 months, the following results were reported:
Both groups showed reductions in median HBsAg levels at month 3, but only the HBeAg-negative patients showed reductions at 6 to 12 months
Significant declines were observed in both groups with each successive year of treatment
A reduction of ≥75% at month 3 in the HBeAg-positive and month 12 in the HBeAg-negative patients were independent predictors of: virological response and HBeAg seroconversion in the HBeAg-positive group, an HBsAg level of <100 IU/mL in the HBeAg-negative group, and HBsAg loss in all patients
Baseline HBsAg levels of <3,000 IU/mL combined with a decline of ≥75% from baseline provided an algorithm for early prediction of HBsAg loss during 5 years of entecavir therapy; the positive and negative predictive values were 70% and 100%, respectively
Based on these findings, clinicians "may adopt the proposed cutoffs for defining an HBsAg decline at the specific time points to make early assessments of treatment responses" in chronic HBV patients with genotype B or C being treated with entecavir, according to lead author Cheng-Yuan Peng, MD, PhD, director of digestive medicine at China Medical University Hospital.
Future research should "elucidate the mechanisms underlying an early significant HBsAg decline during nucleos(t)ide analogue treatment, and validate its feasibility as a guide for making early assessments in patients with chronic hepatitis B receiving entecavir treatment in an independent large cohort and in patients with genotype A or D infection," she told Infectious Disease Advisor.
References
Peng CY, Lai HC, Su WP, et al. Early hepatitis B surface antigen decline predicts treatment response to entecavir in patients with chronic hepatitis B. Sci Rep. 2017;7:42879. doi:10.1038/srep42879
Sonneveld MJ, Hansen BE

,

Piratvisuth T

, et al.

Response-guided peginterferon therapy in hepatitis B e antigen-positive chronic hepatitis B using serum hepatitis B surface antigen levels

.

Hepatology

. 2013;58:872-880. doi:10.1002/hep.26436

Rijckborst V, Hansen BE

, Cakaloglu Y, et al.

Early on-treatment prediction of response to peginterferon alfa-2a for HBeAg-negative chronic hepatitis B using HBsAg and HBV DNA levels

.

Hepatology

. 2010;52:454-461. doi:10.1002/hep.23722

Reijnders JG, Rijckborst V

,

Sonneveld MJ

, et al.

Kinetics of hepatitis B surface antigen differ between treatment with peginterferon and entecavir

.

J Hepatol

. 2011;54:449-454. doi:10.1016/j.jhep.2010.07.046

Wursthorn K, Jung M, Riva A, et al. Kinetics of hepatitis B surface antigen decline during 3 years of telbivudine treatment in hepatitis B e antigen-positive patients

.

Hepatology.

2010;52:1611-1620. doi:10.1002/hep.23905

Marcellin P, Buti M, Krastev Z, et al. Kinetics of hepatitis B surface antigen loss in patients with HBeAg-positive chronic hepatitis B treated with tenofovir disoproxil fumarate

.

J Hepatol

. 2014;61:1228-1237. doi:10.1016/j.jhep.2014.07.019