September 19, 2017
HCC Risk After HCV Direct-Acting Antiviral Treatment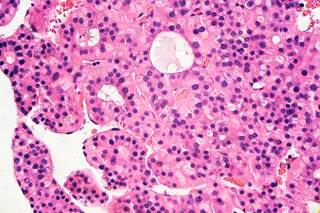 Hepatitis C virus attributing to hepatocellular carcinoma in high-income countries is growing.
A new study published in Journal of Hepatology found no evidence for a difference in hepatocellular carcinoma (HCC) occurrence or recurrence after sustained virological response with direct-acting antivirals (DAAs) compared with interferon-based therapy.
In this systematic review, researchers performed meta-analyses and meta-regression on 26 studies of HCC occurrence (interferon [IFN], n = 17; DAA, n = 9) and 17 studies of hepatocellular carcinoma recurrence (IFN, n = 7; DAA, n = 10) after hepatitis C curative therapy. To determine the HCC incidence rate per 100 person-years, random effects meta-analyses were used.
Compared with IFN studies, DAA studies had a shorter follow-up and older average age within the HCC occurrence studies. Researchers found that HCC occurrence was 1.14 per 100 person-years in IFN studies (95% CI, 0.86-1.52) and 2.96 per 100 person-years in DAA studies (95% CI, 1.76-4.96). After adjustment for study follow-up and age, meta-regression revealed no association between higher HCC occurrence and DAAs (relative risk [RR], 0.68; 95% CI, 0.18-2.55; P =.55).
For HCC recurrence studies, those studies investigating DAAs had shorter average follow-up but similar average age compared with IFN studies. Among DAA studies, HCC recurrence was 12.16 per 100 person-years (95% CI, 5.00-29.58) compared with 9.21 per 100 person-years for IFN studies (95% CI, 7.18-11.81). Meta-regression revealed no association between DAA therapy and HCC recurrence (RR, 0.62, 95% CI 0.11-3.45; P =.56).
In conclusion, Reem Waziry, MD, MPH, from the Viral Hepatitis Clinical Research Program, the Kirby Institute, University of New South Wales Sydney, lead author on the study, explained that the results of the study "show no evidence to support a hypothesis of differential impact of IFN and DAA-based cure on risk for HCC occurrence and recurrence." As such, the researchers concluded in the article that "there is certainly no reason to withhold or defer DAA therapy."
Reference
Waziry R, Hajarizadeh B, Grebely J, et al. Hepatocellular carcinoma risk following direct-acting antiviral HCV therapy: A systematic review, meta-analyses, and meta-regression [published online August 9, 2017]. J Hepatol. doi: 10.1016/j.jhep.2017.07.025