August 04, 2017
New Treatment Options for Rheumatic Manifestations of HCV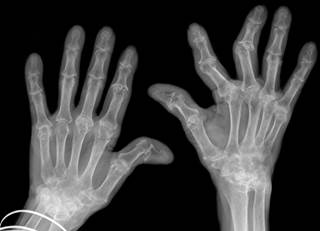 Mixed cryoglobulinemia vasculitis is the most frequent cause of arthralgias in patients with HCV.
The recent development of oral interferon (IFN)-free direct-acting antiviral agents (DAAs) has important implications for managing hepatitis C virus (HCV) in patients with rheumatic symptoms. Patients may have preexisting rheumatic disorders at the time of HCV infection or may develop an HCV-related autoimmune disorder that manifests rheumatic symptoms.1
In an interview with Infectious Disease Advisor, Patrice Cacoub, MD, explained that patients with HCV are at risk for several extrahepatic sequelae. "These manifestations include frank autoimmune and rheumatic diseases, such as arthralgia, myalgia, arthritis, sicca syndrome, and cryoglobulinemia vasculitis, which may dominate the course of infection," he said. Dr Cacoub, a professor of internal medicine at the Pierre and Marie Curie University and head of the vasculitis unit in the department of internal medicine and clinical immunology at La Pitié-Salpêtière Hospital in Paris, France, has participated extensively in HCV research and clinical trials of DAAs. He believes DAAs shift the paradigm for managing HCV in patients who develop extrahepatic complications.1
Most HCV-related extrahepatic manifestations are autoimmune or inflammatory disorders that commonly cause rheumatic symptoms. A high prevalence of patients with HCV experience rheumatic symptoms as the disease progresses. Between 6% and 20% develop arthralgia, which typically arises symmetrically in joints of the knees, back, and fingers; arthralgia of the ankles or elbows is rare.1 Myalgia is less common, affecting 2% to 5% of patients.1
Mixed cryoglobulinemia vasculitis (MCV) is the most frequent cause of arthralgias in patients with HCV. The reported prevalence of MCV in patients with HCV varies widely, from 10% to more than 50%.2 However, an estimated 80% of patients with MCV have HCV antibodies, implicating the virus in MCV's pathogenesis.2,3 Although the precise mechanism of HCV-related MCV is unclear, studies suggest chronic antigen stimulation of B cells affects B-cell and T-cell function and results in the clonal proliferation of B cells that express immunoglobulin M with rheumatoid factor (RF).2,3 Risk factors for HCV-related MCV include older age and longer duration of infection.3
Between 40% and 80% of patients with concomitant MCV and HCV have arthralgia.1 The presence of rheumatic symptoms plus RF activity can result in misdiagnosis of HCV as rheumatoid arthritis. It can also result in HCV infection being overlooked in a patient with an existing rheumatic disorder. Dr Cacoub said rheumatologists should routinely screen patients for HBV and HCV infection. He recommends a simple blood test for hepatitis B surface antigen, hepatitis B surface antibody, total hepatitis B core antibody, and HCV antibody. Because patients who cleared HCV without treatment may retain HCV antibodies, Dr Cacoub said rheumatologists "should test for HCV RNA to confirm the presence of an active infection" in patients with a positive HCV antibody test. Patients with MCV typically do not have anti-cyclic citrullinated peptide antibodies or evidence of joint destruction, which can help clinicians distinguish MCV from rheumatoid arthritis.1
Sicca syndrome is another rheumatic manifestation of HCV and affects 10% to 30% of patients.1 Sicca symptoms involve dryness of exocrine glands in the eyes and mouth but can also include fatigue and muscle or joint pain. Patients with HCV-related sicca syndrome usually have low titers of antinuclear antibodies, RF activity, and MCV. They rarely have Sjögren syndrome autoantibodies.1 The prevalence of true Sjögren syndrome in patients with HCV is less than 5%.1 Arthritis without mixed cryoglobulins is an uncommon rheumatic manifestation of HCV and occurs in less than 10% of patients.1,3
Although liver disease remains the primary cause of death in patients with HCV, many patients die from extra-hepatic complications like cardiovascular disease.3 On its own, HCV worsens several cardiovascular markers; in addition, patients with HCV have elevated rates of cerebrovascular accidents and ischemic heart disease.3 Autoimmune rheumatic diseases also increase the risk of morbidity and mortality due to cardiovascular events.1,3 Having HCV and a rheumatic condition may compound patients' cardiovascular risk. The presence of MCV also increases the risk of adverse outcomes, including life-threatening organ damage. Curing HCV reduces cardiovascular risk and eliminates most MCV manifestations.1,3-5
Prior to the emergence of DAAs, standard treatment for HCV combined pegylated interferon (IFN) with the anti-viral drug ribavirin. Dr Cacoub said IFN regimens have limited effectiveness in curing HCV and are poorly tolerated. "In patients with rheumatic diseases, IFN-based regimens may be problematic, given their association with a wide variety of autoimmune toxicities," he said. Patients treated with an IFN regimen frequently report fatigue, arthralgia, or myalgia, which overlap with symptoms of autoimmune rheumatic disorders like MCV.1 Clinical trials found that adding early DAA agents boceprevir or telaprevir to the IFN-ribavirin combination improved the rate of sustained virologic response (SVR) but exacerbated the toxicities.1
"Main treatment protocols of HCV infection now include IFN-free DAAs," Dr Cacoub noted. "There are many combinations approved, which all have the same characteristics — they are IFN-free, orally administered for 8 to 12 weeks, and have cure rates of 95% to 100%," he said. Data show IFN-free DAA regimens are effective even in hard-to-treat cases of HCV cases.1
Dr Cacoub participated in the VASCUVALDIC clinical trials, which evaluated regimens that combine the IFN-free DAA sofosbuvir with another antiviral drug in patients with HCV-related MCV. In the first VASCUVLADIC trial (N=24), a 24-week trial of sofosbuvir plus ribavirin produced a complete clinical response in 21 patients (87.5%).4 Three-quarters of patients still had SVR 12 weeks after treatment concluded.4 The rate of serious adverse events was 2%.
In the VASCUVALDIC 2 trial (N = 41), patients with HCV-related MCV received sofosbuvir plus daclatasvir for 12 to 24 weeks.5 At a median of 12 weeks, 37 patients (90%) had a complete clinical response and MCV features of arthralgia, purpura, and skin ulcers had resolved in all patients who had them at baseline.5 No serious adverse events occurred. At median follow-up of 26 months, no patients had a relapse of HCV-related MCV. In both studies, most patients had decreases in cryoglobulin levels from baseline.
The IFN-free DAAs represent a new option for treating patients with concomitant HCV and rheumatic disorders. "Recent therapeutic advances with new IFN-free DAA therapies, which are more effective and better tolerated, make screening for HCV in patients with rheumatic disorders more important than ever," concluded Dr Cacoub.
Summary & Clinical Applicability
Many patients with HCV experience extrahepatic manifestations that produce rheumatic symptoms and test positive for rheumatoid factor activity. Interferon-based regimens have limited effectiveness and are poorly tolerated by patients with HCV and rheumatic symptoms. Combinations that include new interferon-free oral antiviral agents are associated with high cure rates, sustained virologic response, and few adverse effects. Patients with rheumatic symptoms should be screened routinely for HCV infection and treated to reduce the risk of morbidity and mortality.
Limitations & Disclosures
Dr Cacoub has received consultancies, honoraria, advisory board, or speakers' frees from Abbvie, AstraZeneca, Bayer, Boeheringer Ingelheim, Gilead, GlaxoSmithKline, Janssen, Merck Sharp and Dohme, Pfizer, Roche, Servier, and Vifor.
References