August 14, 2017
Steatosis: An Independent Risk Factor for Fibrosis in Chronic HCV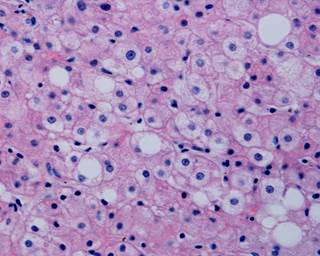 Steatosis is an independent risk factor for fibrosis in African-Americans with chronic HCV infection.
A study recently published in Digestive Disease Science found that hypertension, older age, obesity, and HIV are risk factors and that steatosis is an independent risk factor for liver fibrosis in African-Americans with chronic hepatitis C.1
"Our retrospective study showed that there are risk factors, such as HIV coinfection for progression of liver fibrosis in the African-American population with chronic hepatitis C," Ali Afsari, from the Department of Medicine and Cancer Research Center, Howard University College of Medicine, Washington, DC, and colleagues write. They found steatosis to be "more prevalent in African-American female patients," which is not in line with previous findings of greater disease burden in men and increased viral clearance in women.2
The study analyzed data from 603 African-American patients with chronic hepatitis C who had a liver biopsy performed at Howard University Hospital, Washington DC, between January 2004 and December 2013.
Patients included in the study had a median age of 54 years (range, 19-83 years) and at least 1 liver biopsy in the last decade; 64% were men (n=388). Pathology reports and medical records were used to obtain clinical and pathological data including HIV and hepatitis B virus status, hepatitis C virus genotype, diabetes mellitus, hypertension, body mass index, and hepatic steatosis.
Reported frequencies of diabetes mellitus, hypertension, HIV, and hepatitis B virus were 22%, 16%, 11%, and 4%, respectively. Fibrosis and steatosis were found in 98% (n=589) and 73% (n=434) of study participants, respectively. The majority of patients with fibrosis had either fibrosis stage 1 (48%) or stage 2 (28%). Among the patients with steatosis, steatosis stages 1 (48%) and 2 (14%) were also most frequently reported. Female sex (odds ratio [OR], 1.4; P =.034) and inflammation grade (OR, 1.4, P =.001) were identified as significant predictors of steatosis stage.
Predictors of higher fibrosis stages (stages 3-4 vs 0-2) included hypertension (OR, 3.0), older age (OR, 2.6 for each 10 years), HIV infection (OR, 2.4), weight (OR, 1.1 for each 10-pound increase), and steatosis grade (OR, 1.6). Higher stages of fibrosis were characterized by a significantly higher inflammation grade.
"Inflammation was highly correlated with both fibrosis and steatosis," the investigators wrote, emphasizing that "hepatic fibrosis is commonly preceded by chronic inflammation," which "has been associated with progressive hepatic fibrosis and the development of cirrhosis."
Based on the association between steatosis and fibrosis observed in their study, the authors concluded that "future clinical guidelines may include the early detection of fibrosis through routine measurement of steatosis for [hepatitis C virus] and HIV patients."
References
Afsari A, Lee E, Shokrani B, et al. Clinical and pathological risk factors associated with liver fibrosis and steatosis in African-Americans with chronic hepatitis C. Dig Dis Sci. 2017;62(8):2159-2165. doi: 10.1007/s10620-017-4626-7
Baden R, Rockstroh JK, Buti M. Natural history and management of hepatitis C: does sex play a role? J Infect Dis. 2014;209:S81-S85. doi: 10.1093/infdis/jiu057