April 12, 2017
Statins Reduce Risk of Cirrhosis Decompensation in HBV, HCV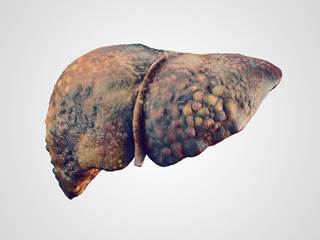 Patients taking statins were less likely than statin non-users to experience decompensation events and mortality.
Statins reduce the risk of decompensation in patients with liver cirrhosis due to hepatitis B virus (HBV) and hepatitis C virus (HCV) infections, according to a study published in Hepatology.1
Decompensated liver cirrhosis can lead to hepatic encephalopathy, ascites with spontaneous bacterial peritonitis and variceal bleeding, and is associated with increased mortality. Treating cirrhosis early on may help prevent or delay decompensation.
Statins have been shown to reduce portal hypertension related to liver cirrhosis in animal models. Limited clinical data suggest that statin use may lower rates of decompensation in patients with liver cirrhosis related to nonalcoholic steatohepatitis (NASH), HCV, or chronic HBV infection.1 However, these studies were performed in specific populations, such as male veterans with HCV-related cirrhosis, or had small sample sizes.2,3
Data also suggest that statin use may decrease the risk for hepatocellular carcinoma (HCC) in HBV and HCV. However, this decreased risk has been observed in patients with chronic hepatitis, and whether this benefit persists in the subset of patients who have already progressed to liver cirrhosis is unknown.1
Researchers investigated the effect of statins on cirrhosis decompensation, mortality, and HCC in patients with liver cirrhosis due to HBV, HCV, and alcohol use in a population-based study. Patient data were collected from the Taiwan National Health Insurance research database.1
Of 15,931 patients with cirrhosis, 675 with statin use and 675 without statin use were included for analysis.1
Patients taking statins were less likely than statin non-users to experience decompensation events (14% vs 29%; adjusted hazard ratio [HR], 0.39), HCC (6% vs 10%; adjusted HR, 0.52), and mortality (9% vs 18%; adjusted HR, 0.46).1
The decreased risk of outcome events was dose-dependent, with lower rates of events correlating with higher cumulative daily doses of statins.1
While statin use decreased the risk of decompensation across all subgroups, the researchers noted that this benefit was "borderline" in patients with alcohol-induced cirrhosis. "[W]e suspected continued alcohol consumption or poor statin adherence might contribute to [this] finding," the researchers wrote.1
Mortality risk was reduced only in patients with HBV-related cirrhosis, and HCC occurrence was not decreased in any individual subgroup.1
"The benefit provided by statin use was mainly in decreasing the risk of ascites-related complications and hepatic encephalopathy. Reduced risk in variceal bleeding could be observed in HBV- and alcohol-related cirrhotic patients," the researchers wrote.1
"Statin may be considered as an adjuvant therapy to prevent decompensation among cirrhotic patients. Future prospective studies are needed to confirm our findings," they concluded.1
References
Chang FM, Wang YP, Lang HC, et al. Statins decrease the risk of decompensation in HBV- and HCV-related cirrhosis: a population-based study [published online March 20, 2017]. Hepatology

. doi:10.1002/hep.29172

Kumar S, Grace ND, Qamar AA. Statin use in patients with cirrhosis: a retrospective cohort study. Dig Dis Sci

. 2014;59:1958-1965. doi:10.1007/s10620-014-3179-2

Mohanty A, Tate JP, Garcia-Tsao G. Statins are associated with a decreased risk of decompensation and death in veterans with hepatitis C-related compensated cirrhosis. Gastroenterology

. 2016;150:430-440.e1. doi:10.1053/j.gastro.2015.10.007