December 03, 2018
Higher Fibroblast Growth Factor-23 May Be Associated With Greater Frailty Risk in Men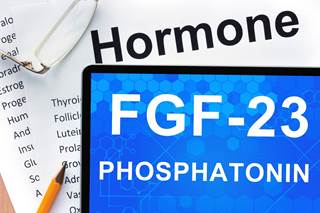 Fibroblast growth factor-23 was associated with a 2.72-fold risk for frailty among blacks.
A higher fibroblast growth factor-23 (FGF23) may be associated with a greater risk for frailty among men with, or who are at-risk for, HIV infection, according to a study published in the Journal of Acquired Immune Deficiency Syndromes.1
The life expectancy of treated HIV-infected individuals is nearly the same as that for HIV-uninfected individuals2,3; however, treated HIV-infected individuals appear to be more likely to become frail than those not infected with HIV.4,5 The pathogenesis for the development of frailty in HIV-infected individuals is unknown. FGF23 is involved in the regulation of bone mineral metabolism, and a previous study demonstrated that higher serum FGF23 levels were associated with significantly higher odds of frailty.6
No study has investigated this association in HIV-infected individuals, therefore researchers from 4 sites in the United States assessed 715 men for frailty (65% were infected with HIV and 29% were black). Of the total, 521 were not frail at or prior to the baseline visit.1
Results showed that median baseline FGF23 levels were lower in the HIV-infected men compared with the HIV-uninfected men (33.7 vs 39.9 rU/mL; P =.006) but were similar by race. During the median follow-up of 6.6 years, frailty developed in 32 men who also had higher baseline FGF23 levels compared with men who remained not frail (45.1 vs 35.7 rU/mL; P =.02). FGF23 was associated with a 1.63-fold risk for frailty; however, these results did not differ based on HIV serostatus.
Interestingly, FGF23 was associated with a 2.72-fold risk for frailty among blacks, but there was minimal association among non-blacks.
"Higher FGF23 concentrations are independently associated with incident frailty among HIV-infected and -uninfected men, particularly among blacks," noted the authors.1 Therefore, further studies are needed to enhance our understanding of the impact that FGF23 has on the aging process.
Disclosures: Michael G. Shlipak, MD, and Michelle M. Estrella, MD, report receiving honoraria from Gilead Sciences. Frank J. Palella, Jr., MD, consults for Gilead Sciences, Janssen Pharmaceuticals, Merck and Co., and ViiV. Jordan E. Lake, MD, reports consulting for Gilead Sciences and Merck, and research funding from Gilead Sciences.
References