September 30, 2017
Why Patients Discontinue ART— and What You Can Do to Stop It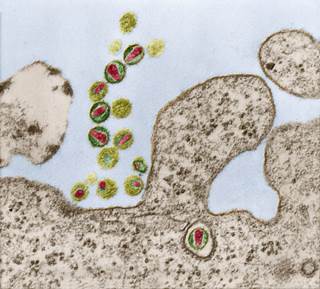 Patients discontinue their antiretroviral therapy due to a host of clinical, social, and structural reasons.
Adherence to antiretroviral therapy (ART) remains one of the many obstacles to reducing the spread of HIV. In 2013, the Joint United Nations Programme on HIV/AIDS (UNAIDS) established an ambitious 90-90-90 target — by 2020, 90% of people living with HIV will receive a diagnosis, 90% with HIV will be retained in care, and 90% of those in care will have viral suppression.1 Although there has been some progress in people living longer with HIV, new cases continue to be diagnosed worldwide.1
When Stopping ART May Be Necessary
Discontinuing ART may be critical at times. In cases of drug toxicity, inability to take drugs orally (eg, gastroenteritis, pancreatitis), and surgical procedures, it is generally inadvisable.2 Clinicians should educate patients about potential harms from stopping their ART regimens: viral rebound, increased risk for HIV transmission, serious non-AIDS complications (eg, renal, cardiac, hepatic, or neurologic complications), drug resistance, and CD4 count decline. In addition, stopping ART allows the potential for opportunistic infections to develop.2
Patients may be curious about the few reports of HIV-infected people who continue to have viral suppression even after stopping ART. Although there have been some rare instances of patients who may appear to be "cured" after stopping ART within a clinical trial, such occurrences are rare.3 "Even if someone is a post-treatment controller after interruption of therapy, there would be concern for increased systemic inflammation associated with a less well-controlled HIV infection off treatment, conferring increased risks of cardiovascular and renal disease," cautions Major Matt Perkins, MD, MTM&H, an infectious disease physician at the William Beaumont Army Medical Center, El Paso, Texas. "For this reason, even if someone were a 'controller' I would still advocate for treating with standard ART. If anything, the literature on post-treatment controllers provides additional impetus for early treatment of HIV infection."
Why Patients Discontinue ART
Risk factors for discontinuing ART are multifactorial, encompassing individual-, system- and structural-level barriers. However, there are commonalities across continents: complex regimens, low health literacy, and virologic failure.
One Canadian study (N=7901) found that younger women on a protease inhibitor regimen with AIDS-defining illnesses at baseline and patients who did not achieve optimal adherence had the greatest risk for discontinuing first-line ART.4 Nucleoside reverse transcriptase inhibitors (NRTIs) and non-nucleoside reverse transcriptase inhibitors (NNRTI) had the lowest discontinuation rates vs NRTIs with or without protease inhibitors or any other combination (P <.001).4 Not surprisingly, patients who initiated treatment in 1992 were more likely to discontinue compared with patients who initiated treatment later in the era of highly active ART.4
"Newer ART regimens are already much safer than the first generation, much less likely to cause mitochondrial toxicity," says Andrew Stolbach, MD, MPH, associate professor of emergency medicine and toxicologist from the Johns Hopkins University School of Medicine, Baltimore, Maryland.
In the Middle East and North Africa, a region known for its low ART coverage (19% vs 67% for high-income countries),5 an Ethiopian meta-analysis found that HIV-infected patients were more likely to discontinue treatment if they lived in a rural area, were illiterate, were not married, had a mental illness, drank alcohol, smoked tobacco, and were bedridden.6 Another Ethiopian study, however, found additional risk factors for ART discontinuation: female sex, virologic failure, and tuberculosis/HIV coinfection.5
A study by DiBiagio and colleagues (N=405; mean age, 39 years) pointed to simplification (29%) of combined ART regimens as the foremost reason for discontinuing therapy, ahead of intolerance (21%) and toxicity (19%) during the mean 12-month follow-up.7 Most of the study participants (55.6%) had been taking regimens with a protease inhibitor and 39.5% of the patients chose regimens with NNRTI as first-line therapy and 85.7% of those NNRTIs had a tenofovir disoproxil fumarate/emtricitabine backbone.7
"Physicians have to be cautious reducing antiretroviral drug therapy from 3 to 1 pill a day dosage simply for the sake of pill reduction, that many other factors are involved including non-antiretroviral polypharmacy, which is on the increase," explains Harmut Krentz, PhD, medical anthropologist and research director at the Southern Alberta Clinic for HIV/AIDS, University of Calgary, Calgary, Alberta, Canada.
Predicting Adherence and Viral Suppression
A study by Ford and colleagues demonstrated that patients (N=207; median age, 30 years) who were initially adherent to their ART were more likely to continue to have viral suppression — even 5 years after ART initiation.8 After adjusting for age and baseline CD4 count, patients with initial suboptimal adherence were twice as likely to have progression to virologic failure than those who had optimal baseline adherence (hazard ratio, 2.8; 95% CI, 1.19-6.66; P =.018).8
"For many [patients], the experience of medication side effects triggers fears that ART is toxic. These fears are typically linked at an emotional level to the knowledge that people of color have been exploited and mistreated in medical research in the past, and that health care resources are not distributed equitably in the United States," says Marya Gwadz, PhD, senior research scientist and director of the Transdisciplinary Research Methods Core in the Center for Drug Use and HIV Research at New York University's Rory Meyers College of Nursing in New York City. "Thus, fear of ART and mistrust of medical settings and ART persist. Yet these issues are not easy to talk about with healthcare providers."
Encouraging Adherence
The Infectious Diseases Society of America set forth 4 strong recommendations with moderate to high quality evidence for ensuring adherence to ART9:Patients receiving ART should have ready access to primary medical care.
Patients receiving ART should have ready access to primary medical care.
HIV clinics should provide care tailored to the linguistic and cultural needs of the patients they serve.
Multidisciplinary medical teams should support long-term patient-provider relationships.
All patients with HIV should be evaluated for depression and substance abuse. A care plan for addressing psychosocial issues should be implemented among providers.
In resource-limited areas, text messaging, reminder cards, and providing treatment supporters may contribute to ART adherence.6
"We are taking a much more holistic approach to all the medicines our HIV patients are taking, not just their antiretroviral drugs but also non-antiretrovirals and over-the-counter medicines. Our pharmacists work closely with patients, physicians, and nurses to review medications looking for what may produce drug-drug interactions, and importantly to look for regimens that can be altered or eliminated for the patient," says Dr Krentz.
Summary & Clinical Applicability
Even with 1-pill ART, patients still discontinue their therapy because of a host of clinical, social, and structural reasons. Clinicians need to educate patients about the dangers of drug holidays for the health of the individual as well as the population to reduce new HIV infections.
References