January 16, 2017
ART Improves Liver Fibrosis in Majority of Patients With HIV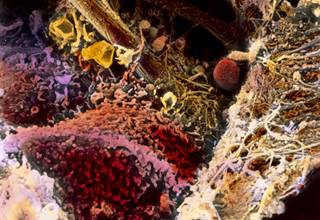 Scanning electron micrograph showing human liver tissue (red-brown) affected by fibrosis. Photo Credit: Professors Pietro M. Motta & Tsuneo Fujita / Science Source.
Combination antiretroviral therapy (cART) was associated with more improvements than declines in liver fibrosis score in HIV-infected patients with or without hepatitis coinfections, according to a study published in the Journal of Viral Hepatitis.
Liver disease is a leading cause of non-AIDS morbidity and mortality in individuals living with HIV, especially patients who are coinfected with hepatitis C virus (HCV) or hepatitis B virus (HBV). While liver fibrosis can result from HIV infection alone, the presence of HCV or HBV accelerates its progression. Previous studies have demonstrated conflicting results on the effect of cART on liver fibrosis. Some studies have shown improvement in liver fibrosis scores; others have shown decline, particularly in HIV/HCV coinfected cohorts.
Yingying Ding, PhD, of Shanghai China's Fudan University, and colleagues undertook a retrospective cohort study of HIV-infected patients treated with cART from 2004 to 2016. Patients with HIV alone as well as patients coinfected with HBV and/or HCV were included in the cohort. Ultimately, 3900 patients met the criteria for inclusion in the analysis. The researchers classified the patients into 3 categories using the Fibrosis-4 (FIB-4) index, an inexpensive, noninvasive marker of liver fibrosis (class 1, <1.45; class 2, 1.45˗3.25; class 3, >3.25). They then determined which patients changed from baseline to a lower or higher FIB-4 class in at least 2 subsequent measurements and showed how demographic variables, disease characteristics, medication regimens, and laboratory values were associated with these changes.
Results showed that 52.6% of patients in class 2 and 74.2% of patients in class 3 improved to a lower class, while 12.8% of patients in class 1 and 5% of patients in class 2 progressed to a higher class. Older age, male, Dai ethnicity, injection drug use, HCV coinfection, and tenofovir therapy were negatively associated with improvement to lower classes; a class 3 status at baseline and time-updated increases in CD4 count from baseline were positive predictors. For progression to higher classes, older age, male, Jingpo ethnicity, and HCV coinfection were positive predictors, while baseline CD4 count and class 2 status at baseline were negative predictors. A decreased risk of mortality was noted in class 3 patients who improved to a lower class. "This suggests that reductions in liver fibrosis score in patients with severe liver fibrosis would provide survival benefit for them," wrote the authors. "Therefore, special attention should be given to those without significant reductions in liver fibrosis shortly after treatment, and their treatments should be reviewed and may be revised."
"Several clinical implications emerged from this study," the investigators concluded. "First, cART initiation particularly at early stage is associated with an overall reduction in liver fibrosis in HIV-infected patients with and without hepatitis co-infections. Second, most improvements of liver fibrosis associated with treatment occur shortly after treatment, thus for those without significant reductions in liver fibrosis shortly after treatment, their treatments should be reviewed and may be revised. Third, the hepatotoxicity associated with cART should be monitored from treatment initiation until the end of treatment [and] special attention should be given to those who are older, male, [and] coinfected with HCV."
References
Ding Y, Duan S, Ye R, et al. More improvement than progression of liver fibrosis following antiretroviral therapy in a longitudinal cohort of HIV-infected patients with or without HBV and HCV co-infections [published online December 7, 2016]. J Viral Hepat

. doi: 10.1111/jvh.12658

Moodie EEM, Pant Pai N, Klein MB. Is antiretroviral therapy causing long-term liver damage? A comparative analysis of HIV-mono-infected and HIV/hepatitis C co-infected cohorts. PLoS One

. 2009;4:e4517. doi: 10.1371/journal.pone.0004517