February 28, 2018
Efficacy of Immediate Oral Etoposide for Mild to Moderate AIDS-Related Kaposi Sarcoma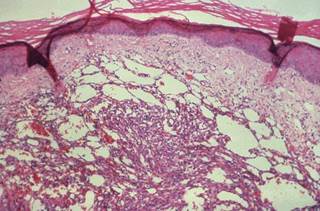 The majority of participants were men (71%) and African (93%), median age was 34 years with a median CD4 count of 184 cells/mm3. Photo Credit: CDC/ Dr Peter Drotman.
According to the results of a randomized clinical trial published in Clinical Infectious Diseases, immediate oral etoposide conferred no benefit compared with as-needed oral etoposide in patients with mild to moderate AIDS-related Kaposi sarcoma who were initiating antiretroviral therapy.
In the A5264/AMC-067 randomized clinical trial (ClinicalTrials.gov identifier: NCT01352117) in Africa and South America, adults with HIV-1 and mild to moderate Kaposi sarcoma who were initiating antiretroviral therapy were enrolled. Participants were randomly assigned to receive antiretroviral therapy alone (as-needed group; n=94) or in combination with oral etoposide (immediate group; n=96). Participants in the as-needed group received etoposide if the Kaposi sarcoma progressed despite antiretroviral therapy. The primary outcome was considered treatment failure (Kaposi sarcoma progression, initiation of non-study chemotherapy, death, or loss to follow-up), stable Kaposi sarcoma, or Kaposi sarcoma response at 48 weeks.
The proportions of participants categorized as failure (53.8% vs 56.6% for as-needed vs immediate), stable disease (16.3% vs 10.8%), and response (30.0% vs 32.5%) were not significantly different among groups at 48 weeks (P =.911).
The secondary outcomes of initial Kaposi sarcoma progression (P =.021), Kaposi sarcoma-associated immune reconstitution inflammatory syndrome (P =.003), and Kaposi sarcoma response (P =.003) were all significantly improved in the immediate group.
At 48 weeks, the rates of adverse events, HIV RNA suppression, and mortality were not significantly different among groups.
The study authors concluded that their results contributed to "the lack of evidence supporting immediate adjunctive treatments for mild to moderate [Kaposi sarcoma] beyond [antiretroviral therapy] alone."
Reference
Hosseinipour MC, Kang M, Krown SE, et al; A5264/AMC-067 REACT-KS team. As-needed versus immediate etoposide chemotherapy in combination with antiretroviral therapy for mild or moderate AIDS-associated Kaposi sarcoma in resource-limited settings: A5264/AMC-067 randomized clinical trial [published online January 22, 2018]. Clin Infect Dis. doi: 10.1093/cid/ciy044