October 12, 2016
Children With HIV From Sub-Saharan Africa at Highest Risk for Kaposi Sarcoma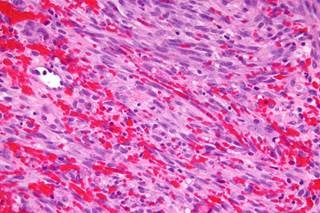 Children with HIV from sub-Saharan Africa living in Europe are at highest risk of Kaposi Sarcoma. Photo Credit: By Nephron (Own work), via Wikimedia Commons
Children with HIV from eastern and southern Africa and those of sub-Saharan origin living in Europe had a higher risk for Kaposi sarcoma after initiating combination antiretroviral therapy (cART) than children with HIV in other areas, according to a study published in Clinical Infectious Diseases.1
Researchers from the Pediatric AIDS-Defining Cancer Project Working Group for IeDEA Southern Africa, TApHOD, and COHERE in EuroCoord examined 24,991 children with HIV from eastern and southern Africa, Europe, and Asia. The organizations used the International Epidemiologic Databases to Evaluate AIDS and the Collaboration of Observational HIV Epidemiological Research to examine cohort data from 1996 onward. The data included children younger than 16 years when they started cART.
The researchers used Cox models to determine hazard ratios, using adjustments for the following: stage of HIV/AIDS at time of cART initiation, start year, age, region, origin, and sex.
Incidence rates per 100,000 person-years were 86 in eastern Africa (95% confidence interval [CI], 55-133) and 81 (95% CI, 26-252) in children of sub-Saharan African origin who were living in Europe, according to the study authors.
In contrast, rates were much lower in southern Africa at 11 per 100,000 person-years (95% CI, 4-35), and 0/100,000 person-years in non sub-Saharan African children in Europe (95% CI, 0-50) and in Asia (95% CI, 0-27).
The researchers indicated that Kaposi sarcoma risk was lower in girls than boys (adjusted hazard ratio [HR], 0.3; 95% CI, 0.1-0.9).
The organizations explained that the possible causes were high human herpesvirus 8 (HHV-8) prevalence and difficulty in accessing healthcare. The researchers also noticed a correlation between older age and advanced stage of HIV/AIDS at time of starting cART as risks for developing Kaposi sarcoma. They emphasized that early initialization of cART may help prevent Kaposi sarcoma.
The researchers noted several study limitations. For instance, children with HIV in eastern and southern Africa only start being monitored after the initiation of cART. In addition, their sample may not represent all children infected with HIV in these locations.
"Kaposi sarcoma diagnoses in eastern Africa were often based on clinical assessment without histological confirmation, which might have led to an over- or underestimation of Kaposi sarcoma incidence rates in children from this region," the organizations reported. Kaposi sarcoma measurements in southern Africa were improved by using records from pediatric oncology departments, according to the study authors.
"HIV RNA data and CD4 measurements were missing for 65% and 21% of included children, respectively," the researchers noted, which reduced their capacity to examine how biological markers affected the risk for Kaposi sarcoma. They added that the stage data from the Centers for Disease Control and Prevention "were missing for 8% of included children and 19% of Kaposi sarcoma cases," which affected precise results of the estimate.
They concluded that the effect size was still considerable but indicated that data on HHV-8 infection status were not available at the time of the study.
Reference
The Pediatric AIDS-Defining Cancer Project Working Group for IeDEA Southern Africa, TApHOD, and COHERE in EuroCoord. Kaposi sarcoma risk in HIV-infected children and adolescents on combination antiretroviral therapy from sub-Saharan Africa, Europe, and Asia. Clin Infect Dis. 2016. doi:10.1093/cid/ciw519.