September 29, 2017
DHA Reduces Fasting Triglycerides in HIV With Hypertriglyceridemia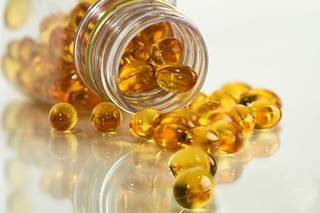 While fasting triglyceride levels decreased LDL cholesterol levers increased at week 4.
Docosahexanoic acid (DHA) supplementation in patients with HIV receiving combination antiretroviral therapy (cART) lowered triglyceride levels significantly, according to a study in Clinical Nutrition.1
Researchers conducted a double-blind, placebo-controlled trial (Effect of DHA on Lipid and Carbohydrate Metabolism Alternations and Body Fat Distribution in HIV Patients Under HAART; ClinicalTrials.gov identifier NCT02005900) of 84 people with HIV, who randomly received either 4 g/day of DHA or 7 g/day of placebo (olive oil) for 48 weeks. Primary study end point was patient's percent change in triglyceride level at 4 weeks, based on previous research suggesting that the maximum effect of lipid-lowering strategies occurs within the first 4 to 6 weeks of intervention.2 The trial was extended an additional 44 weeks to ascertain more fully the tolerability and safety of DHA and to collect fat data.
Eighty patients (95%) completed the week 4 study evaluation and 77 (88.5%) completed the week 12 evaluation. Patients receiving DHA had a 43.9% median decline in fasting triglyceride levels at week 4 vs a 2.9% decline in the placebo group (P <.0001). The difference remained statistically significant at week 48 (P =.0253).
Low-density lipoprotein cholesterol levels in the DHA group increased by 7.1% at week 4; no change was noted in the placebo group. Limb fat increased significantly for both groups, but the between-group difference was not statistically significant. DHA was well tolerated by all but 3 participants, who had treatment-limiting toxicity. Assessments of peripheral fat showed that it increased significantly for the DHA group but was not significantly greater than in the placebo group.
References
Domingo P, Fernández I, Gallego-Escuredo JM, et al. Effects of docosahexanoic acid on metabolic and fat parameters in HIV-infected patients on cART: A randomized, double-blind, placebo-controlled study [published online June 8, 2017]. Clin Nutr. doi:10.1016/j.clnu.2017.05.032
Stone NJ, Robinson JG, Lichtenstein AH, et al; for the American College of Cardiology/American Heart Association Task Force on Practice Guidelines. 2013 ACC/AHA guideline on the treatment of blood cholesterol to reduce atherosclerotic cardiovascular risk in adults: a report of the American College of Cardiology/American Heart Association Task Force on Practice Guidelines. J Am Coll Cardiol. 2014;63(25 Pt B):2889-2934.