February 28, 2017
Early ART Reduces Bacterial Infection Risk in HIV With High CD4 Counts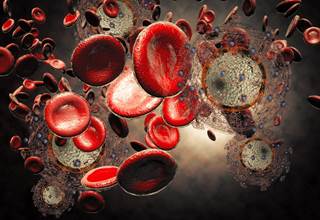 Immediate ART lowers the risk for severe bacterial infections in patients with HIV and high CD4 T-cell counts.
Immediate initiation of antiretroviral therapy (ART) lowered the risk of severe bacterial infections in patients with human immunodeficiency virus (HIV) and high CD4 cell count, according to a study published in Lancet HIV.1
The START trial (Strategic Timing of Antiretroviral Treatment; ClinicalTrials.gov identifier: NCT00867048) found that in HIV-positive people with a high CD4 count (>500 cells per μL), immediate initiation of ART was more effective than deferred initiation at reducing the risk of bacterial infectious disorders and tuberculosis. Changes in CD4 cell count only partially accounted for this finding.2 A hypothetical increase in neutrophil count was thought to contribute, although the relationship between neutrophil count and reduced incidence of infection was not examined in the primary analysis of the START trial.1,2
Researchers from the International Network for Strategic Initiatives in Global HIV Trials (INSIGHT) START study group, led by Andrew N. Phillips, PhD and Jemma O'Connor, MSc from University College London, United Kingdom, evaluated the role of neutrophil counts and other factors in reducing the incidence of severe bacterial infection in HIV-positive individuals with a high CD4 count.1
Of 4685 ART-naïve participants from the START study population, 120 had 1 or more severe bacterial infections; 34 were in the immediate ART group and 86 were in the deferred ART group.1
The risk of severe bacterial infection was reduced with immediate ART compared with ART that was deferred until CD4 cell counts dropped below 350 cells per μL (hazard ratio [HR], 0.39; P <.0001).1
Average CD4 counts and neutrophil counts were significantly higher in the immediate ART group than in the deferred ART group (P <.0001). While higher CD4 cell counts were associated with lower risk for severe bacterial infection (HR, 0.78; P =.0001), higher neutrophil counts were not (HR, 1.00; P =.98).1
Of other factors included in the analysis, only a body mass index (BMI) greater than 35 kg/m² correlated with an increased risk for severe bacterial infection.1
"These newly published findings from the START trial show that ART has a protective effect in reducing the risk of severe bacterial infections, including infections that are not AIDS-defining, and even in people with high CD4 cell counts. These findings emphasize just how wide are the health benefits of early diagnosis and ART initiation in people with HIV," Dr Phillips told Infectious Disease Advisor. This protective effect appears to be mediated by increases in CD4 count, but not neutrophil count, related to ART.1
"It is important that people follow widely available online advice on HIV testing," Dr Phillips said, referring to current HIV treatment guidelines, which recommend initiating treatment with ART in HIV patients regardless of CD4 cell count.3-5 "Our results highlight the need for better ways to identify people with HIV closer to the time of infection," he added.
Dr Phillips reports receiving consultancy fees from GlaxoSmithKline Biologicals, AbbVie, and Gilead Sciences.
References