November 30, 2017
Linkage to HIV Care: To Give or Not to Give Financial Incentives?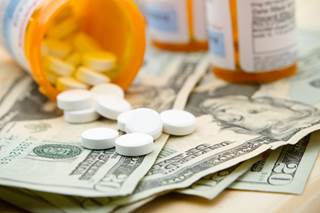 In a recent study, financial incentives increased the viral suppression rates by 3.8% at clinics dispensing gift cards vs those providing standard care.
Despite the widespread knowledge that treatment is prevention, only 54.7% of Americans with HIV have undetectable viral levels.1 To improve rates of viral suppression, Wafaa M El-Sadr, MD, MPH, MPA, from Columbia University's Mailman School of Public Health in New York City, and colleagues sought to determine whether financial incentives could improve linkage to care rates, and thus, viral suppression rates (ClinicalTrials.gov identifier: NCT01152918).2
El-Sadr's 2-year HIV Prevention Trials Network (HPTN) 065 study, which was conducted in clinics in the Bronx, New York, and Washington, DC, examined the effect that cash cards have in encouraging patients to be tested and linked with care.2 To measure the effectiveness of financial incentives, 9641 patients in 17 clinics received $125 gift cards when they came in for an HIV test and followed up with the clinic if they tested positive for HIV. Patients also received $70 cards quarterly if they maintained viral suppression (HIV RNA <400 copies/mL) for 3 months.2
Although financial incentives did not increase linkage with care (adjusted odds ratio, 1.10; 95% CI, 0.73-1.67; P =.65), financial incentives did lead to significantly increased viral suppression rates (95% CI, 0.7%-6.8%; P =.01). Financial incentives increased the viral suppression rates by 3.8% at clinics dispensing gift cards vs those providing standard care. The incentives also improved viral suppression in patients who did not consistently achieve it (95% CI, 1.4%-8.5%; P =.007).2
How Successful Are Financial Incentives?
"Financial incentives may seem to many as an odd policy but, with a contagious disease like HIV, in which treatment is prevention, financial incentives, if they lead to medication adherence and viral load suppression, could translate into fewer HIV transmission events," explains Amesh Adalja, MD, FIDSA, spokesman for the Infectious Diseases Society of America and senior associate at the Johns Hopkins University Center for Health Security, Baltimore, Maryland. "The cost of lifelong treatment of a new case of HIV is substantial and the financial incentives have to be viewed in this context."
Previous studies of financial incentives for patients with HIV have drawn mixed results.3 Skeptics are concerned about the sustainability and scalability of financial incentives as a long-term solution.3 However, in a qualitative study that elicited HIV clinicians' opinions about incentives for patients, those who were initially critical of the program became proponents of the incentives by the study's conclusion.3
Even when the incentives do not increase retention in care rates or the number of patients achieving viral suppression, their availability helps clinicians learn more about why patients miss appointments, do not take their medications,3,4 or engage in risky behaviors, such as young women who exchange sex for food.4 Of patient motivations, financial incentives are among the most effective.5
"There is strong evidence in a variety of settings to support one-time financial incentives to motivate people to engage in HIV testing and initial linkage to HIV care," says Sandra I. McCoy, PhD, MPH, associate adjunct professor of epidemiology at the University of California, Berkeley. "This includes studies in resource-constrained settings, where people face serious economic constraints to testing (eg, transportation), as well as studies in more resource-rich environments, where the financial incentive acts as more of a motivational 'nudge' to promote testing or linkage."
Turning Skeptics Into Incentive Advocates
In the HPTN 065 study, both providers and patients felt positive about the program when asked about the qualitative and logistic aspects of the study.6 Clinicians reported important intangible benefits such as having more positive interactions with patients and witnessing patients becoming more involved in their care by seeking other medical screenings such as Pap smears and electrocardiograms. Patients enrolled in the incentive study said that they felt like someone cared about them and that they could purchase food, clothing, and occasionally splurge on a treat.6
From the providers' prospective, the downside of the financial incentives study was that they created a logistic and administrative burden as the demand for services at clinics dispensing the gift cards was steadier and busier than before the study. Patients cited disappointment that the incentive program was finite.7
Beyond Financial Incentives
Realizing that money cannot solve all of patients' problems, researchers in a study of 800 hospitalized patients with HIV and concomitant substance abuse sought to determine whether patient navigators might help vulnerable patients become more adherent with their antiretroviral regimens and follow through with appointments.7 The multisite study that randomly assigned patients to receive patient navigator assistance, patient navigator assistance with financial incentives, or standard care showed that there was no difference in viral suppression rates among the groups.7
"[From hospital wards,] the study recruited [people with HIV who also had substance abuse problems] and who did not have a suppressed viral load. We learned in the study that a patient navigator and financial incentives improved engagement in care, but the effect disappeared when the intervention ended," explains Carlos del Rio, MD, professor of medicine and program director of the Emory AIDS International Training and Research Program at Emory University School of Medicine in Atlanta, Georgia. "As clinicians, we can conclude that among these vulnerable patient populations, significant efforts are needed to engage them in care and get them [to reach viral suppression] and that if an intervention like a patient navigator is implemented, it will need to be continued for longer than 6 months."
Sometimes extra clinical vigilance benefits patients who lack resources. Such was the case in an Atlanta HIV clinic in which patients were given a choice of receiving $30 per visit (n=21), the financial incentive with or without a commitment contract (n=19), or the usual standard care (n=70).8 The patients in the incentive choice arm were nearly 4 times more likely to achieve viral suppression (<200 copies/mL) than those who received standard care (adjusted odds ratio 3.93; 95% CI, 1.19-13.04; P =.025).8
"Use of incentives makes the most sense with disadvantaged populations, including homeless, drug users, and people in developing countries," says Maxine Stitzer, PhD, professor of psychiatry and behavioral sciences at the Johns Hopkins University School of Medicine in Baltimore, Maryland.
Summary & Clinical Applicability
Financial and other assistance incentives have drawn mixed results in getting patients linked with care and helping them remain virally suppressed. The success of such incentive programs is context dependent.
References