August 10, 2018
Low Rates of Syphilis Testing in High-Risk Men Who Are HIV Positive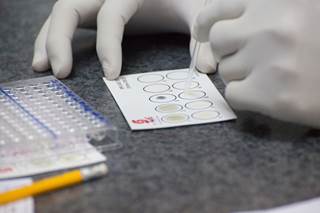 Current guidelines for frequent syphilis screening are based on the presence of sexual risk behaviors, underlining the importance of conducting sexual risk assessments.
Approximately one-third of men who are HIV positive and have sex with men (MSM) did not undergo syphilis screening in the previous 12-month period, despite guidelines recommending more frequent testing for those at high risk, according to new findings published in Clinical Infectious Diseases.
The rates of primary and secondary syphilis have increased by 17.6% in the United States since 2015, with individuals of homosexual or bisexual orientation, and other MSM accounting for the majority of both primary and secondary cases of syphilis in 2016. Syphilis screening is recommended every 3 to 6 months for MSM at the highest risk for infection (i.e., individuals with multiple sex partners and those who engage in unprotected sexual intercourse). However, population-based information on testing among HIV-positive MSM is limited. In the current study, the authors investigated the proportion of sexually active HIV-positive MSM who were tested for syphilis by their HIV care provider during the previous 3, 6, and 12 months.
Using data from medical records and the Medical Monitoring Project, a population-based HIV surveillance system, the authors found that 71% (95% CI, 69%-73%) of sexually active HIV-positive MSM had tested positive for syphilis at least once in a 1-year period during 2013 and 2014. Among men at highest risk, the proportion was 75% (95% CI, 72%-78%) for individuals who reported engaging in unprotected sex and 77% (95% CI, 74%-79%) for those who had more than 2 partners. But among MSM who reported having sex without a condom, only 49% (95% CI, 45%-53%) had been tested for syphilis in the previous 6 months and 26% (95% CI, 22%-30%) had been tested during the previous 3 months. The proportions were similar for MSM reporting 2 or more partners; 49% (95% CI, 44%-54%) had been tested in the previous 6 months and 26% (95% CI, 22%-29%) had been tested in the previous 3 months.
"Given the potentially serious complications that can result from HIV and syphilis co-infection, our findings suggest that improved efforts may be warranted to increase syphilis screening among sexually active HIV-positive MSM," the investigators concluded.
Reference
de Voux A, Bernstein K, Bradley H, Kirkcaldy RD, Tie Y, Shouse RL, Medical Monitoring Project. Syphilis testing among sexually active men who have sex with men and who are receiving medical care for HIV in the United States-Medical Monitoring Project, 2013-2014 [published online July 7, 2018]. Clin Infect Dis. doi:10.1093/cid/ciy571