December 21, 2016
Flu Vaccination in Diabetes: A Missed Opportunity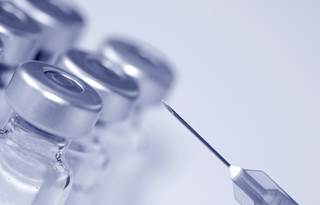 Patients with type 2 diabetes who refuse the flu vaccine cite not feeling at risk for flu and fear of adverse events.
The US Centers for Disease Control and Prevention (CDC) recommends flu vaccination for all individuals aged 6 months and older.1 This advice is even more imperative in those with chronic conditions, such as diabetes, due to the increased risk of complications associated with flu and post-flu pneumococcal pneumonia.2 However, adherence to flu vaccine recommendations remains less than satisfactory in patients with type 2 diabetes (T2D), according to a study published in Vaccines.3
Rodrigo Jiménez-Garcia, PhD, of the Preventive Medicine and Public Health Teaching and Research Unit at Rey Juan Carlos University in Madrid, Spain, and colleagues examined the rate of influenza vaccination and adherence/nonadherence data in patients with T2D for 2013. The researchers performed a retrospective study of MADIABETES cohort data of 3443 patients with T2D. For a short period, patients were also enrolled from 56 healthcare centers in Madrid. Patients with type 1 diabetes and those who were homebound were excluded from the study.
Computerized medical records and phone surveys were used to gather information. Researchers used data collected from general practitioners at a 2007 baseline visit and yearly from 2008 to 2013.
For the final sample, which had 2288 patients, 65.7% (1504) received a flu vaccine in 2013. Approximately 19% of patients had not received a flu vaccination for the entire period of 2007 to 2013. The more frequently patients visited a general practitioner, had a previous flu or pneumococcal shot, or had T2D for a longer duration, the more likely they were to be vaccinated.
Patients receiving vaccination tended to be married, older, of a lower education level, and had never smoked. They also had lower intake of alcohol and a higher rate of comorbid conditions, such as chronic respiratory disease and high blood pressure. Ninety percent of patients whose physician recommended vaccination accepted the flu shot.
In assessing nonadherence, researchers found a correlation between patients believing they were not at risk for influenza and lower vaccination rates (41.6% of men vs 29.79% of women). An inverse relationship was seen between glycated hemoglobin (HbA1c) and vaccination rates, with the researchers noting that "higher mean glycated haemoglobin was associated with a reduced probability of vaccination." Patients with T2D also reported concern about adverse reactions associated with the vaccine (20.23% of men vs 32.53% of women).
The researchers proposed a media campaign focused on patients with T2D, more education for healthcare workers, expanding access to health care, using digital reminders at general practitioner offices, and offering financial incentives to physicians to increase vaccination rates in this population.
Study limitations included the possibility of the population not being a representative sample, self-reported responses may be flawed due to incorrect recall or bias, and reasons for refusing vaccination can be difficult to determine. Also, physician opinion on vaccination was not collected, and rates of vaccination were not collected for 2014 and 2015. Selection bias may have occurred since only 79.2% of patients participated in the survey.
"The main barrier to vaccination is the lack of knowledge regarding the need for and risks and the advantages of influenza vaccination. Healthcare workers should make every effort to educate patients and encourage influenza vaccination among people with T2D," the researchers concluded.
References
Flu and people with diabetes. Centers for Disease Control and Prevention website. August 25, 2016. https://www.cdc.gov/flu/diabetes/. Accessed December 15, 2016.
Influenza and Pneumococcal Immunization in Diabetes. Diabetes Care. 2004;27(suppl 1):s111-113. doi: https://doi.org/10.2337/diacare.27.2007.S111
Jiménez-Garcia R, Lopez-de-Andres A, Hernandez-Barrera V, et al. Influenza vaccination in people with type 2 diabetes, coverage, predictors of uptake, and perceptions. Result of the MADIABETES cohort a 7years follow up study. Vaccine. doi: 10.1016/j.vaccine.2016.11.039.