May 29, 2017
Novel Adjuvanted H7N1 Vaccine Safe, Immunogenic in Older Adults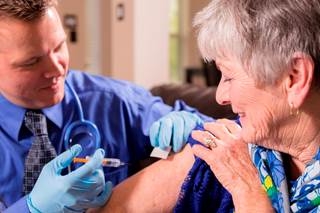 Vaccine provides model for other H7-subtype influenza vaccines.
In a phase 2 clinical trial (ClinicalTrials.gov identifier: NCT01949090), a hemagglutinin vaccine against the avian influenza virus strain H7N1 demonstrated immunogenicity after 2 doses and an acceptable safety profile in adults older than age 65. Intended to serve as a model for H7-subtype influenza vaccines, the H7N1 vaccine was developed before H7N9 strains became available to the pharmaceutical industry. Results of the trial, led by Anuradha Madan, PhD, director of clinical development at GlaxoSmithKline, were published recently in Vaccine.1
Major epidemics of the avian influenza virus H7N9, labeled by a World Health Organization (WHO) official as "an unusually dangerous virus for humans," have taken place in China since the first recorded outbreak in 2013.2 The mortality rate for the 770 cases recorded as of June 2016 was 40.9%. With a median age of 61 in people with confirmed H7N9 virus infection, older people are believed to be at disproportionate risk.3
Hemagglutinin H7 vaccines were shown in prior trials to have poor immunogenicity, even in younger populations. However, the addition of an adjuvant significantly boosted their effectiveness, and allowed for a smaller amount of antigen compared with non-adjuvanted formulations.4 The H7N1 vaccine contains ASO3, an adjuvant composed of α-tocopherol, squalene, and polysorbate 80 in an oil-in-water emulsion.
In order to assess the immunogenicity and safety of AS03-adjuvanted vaccine formulations containing H7N1 split-virus inactivated hemagglutinin (HA) antigen (A/mallard/Netherlands/12/2000) in adults age 65, the investigators randomly assigned 360 volunteers to receive 2 doses of the following intramuscular injections:
3.75 lg HA adjuvanted with AS03A (H7N1-3.75A) (n=60)
3.75 lg HA adjuvanted with AS03B (H7N1-3.75B) (n=60)
7.5 lg HA adjuvanted with AS03A (H7N1-7.5A) (n=60)
7.5 lg HA adjuvanted with AS03B (H7N1-7.5B) (n=60)
Saline placebo (n=120)
AS03A and AS03B contained 11.86 mg and 5.93 mg of α-tocopherol, respectively. Injections were administered 21 days apart.
The study had 2 co-primary end points: descriptive assessment of the immune response 21 days post dose 2, and description of safety and reactogenicity through day 42. Immunogenicity assessments were made at 21 days, 6 months, and 12 months after each dose using hemagglutination inhibition (HI) and microneutralization assays. Safety and reactogenicity was assessed via blood samples, diary cards to record solicited symptoms, and spontaneously-reported adverse events.
Vaccinated groups demonstrated seroprotection rates (SPR) of 69.6% to 88.7%, seroconversion rates (SCR) of 69.6% to 88.5%, mean geometric increase (MGI) of 11.0 to 18.9, and HI geometric mean titers (GMTs) of 55.0 to 104.8. Microneutralization GMTs were 46.2 to 74.7 in the vaccinated groups at day 42; vaccine response rate (VRR) (proportion with >4-fold increase in post-vaccination reciprocal titer) was 46.4% to 81.5%. At day 42, vaccine-receiving patients showed microneutralization GMTs of 46.2 to 74.7 and vaccine response rates of 46.4% to 81.5%. Patients who received AS03A-adjuvanted formulations had higher antibody responses. HA doses had no clear impact on immunogenicity. Injection site pain was the most frequently reported adverse event, occurring in 41.7% to 65.0% of vaccine recipients vs 6.7% of individuals who received placebo.
"Our results support the selection of formulations containing 3.75 lg HA adjuvanted with the higher AS03 dose (AS03A) for further development of H7-subtype vaccines, along with another H7N1 study in younger adults (reported elsewhere) and evaluations of H7N9 vaccine formulations," the researchers wrote. "The formulation is immunogenic at antigen-sparing doses (3.75 lg HA), which is crucial for pandemic vaccines."
References