February 26, 2018
Antibiotic Stewardship: Role of MRSA Nasal Screening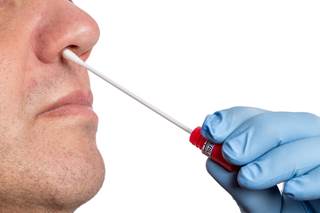 While a positive MRSA nasal test was not diagnostic of MRSA pneumonia, a negative nasal test for MRSA rapidly and effectively ruled out MRSA pneumonia.
According to the results of a study published in Clinical Infectious Diseases, nasal screening for methicillin-resistant Staphylococcus aureus (MRSA) had a high negative predictive value of 96.5% and a positive predictive value of 44.8%.
In this systematic review and meta-analysis, researchers evaluated 22 studies (n=5163) that assessed MRSA nasal screening and the development of MRSA pneumonia. Pooled data were used to calculate positive and negative predictive values as well as sensitivities and specificities.
Overall, MRSA nasal screening had a sensitivity of 70.9% and a specificity of 90.3%. Using an estimated 10% prevalence of potential MRSA pneumonia, the positive and negative predictive values were 44.8% and 96.5%, respectively.
For both community-acquired pneumonia and healthcare-associated pneumonia, the pooled sensitivity and specificity increased to 85% and 92.1%, respectively, resulting in a positive predictive value of 56.8% and a negative predictive value of 98.1%. For MRSA ventilator-associated pneumonia, the sensitivity and specificity were 40.3% and 93.7%, respectively, resulting in a positive predictive value of 35.7% and a negative predictive value of 94.8%.
The study authors concluded that, "use of MRSA nares screening is a valuable tool for [antimicrobial stewardship programs] to de-escalate empiric anti-MRSA therapy in patients with pneumonia who are not nasally colonized with MRSA, specifically those with [community-acquired pneumonia]/[healthcare-associated pneumonia]. MRSA screening offers a rapid, inexpensive way for hospitals to avoid unnecessary and costly therapy that does not provide additional clinical benefit to the patient."
Disclosures: Eleftherios Mylonakis, MD, has received grant support from T2 biosystems, Atellas Pharma, and Sanofi-Aventis. Tristan T. Timbrook, PharmD, has received honorarium for speaking and/or consulting for BioFire Diagnostics, GenMark Diagnostics, and Roche Diagnostics.
Reference
Parente DM, Cunha CB, Mylonakis E, Timbrook TT. The clinical utility of methicillin resistant Staphylococcus aureus (MRSA) nasal screening to rule out MRSA pneumonia: a diagnostic meta-analysis with antimicrobial stewardship implications [published online January 11, 2018]. Clin Infect Dis. doi: 10.1093/cid/ciy024