November 22, 2017
Long-Term Outcomes Following Prosthetic Valve Endocarditis Caused by Candida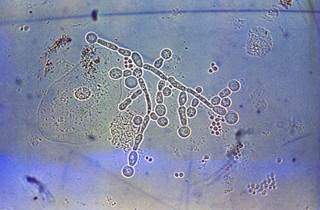 Surgery does not appear mandatory for frail patients or those with uncomplicated endocarditis. Photo Credit: CDC/ Dr Brinkman.
In a retrospective analysis published in Clinical Infectious Diseases, the long-term outcomes of prosthetic valve endocarditis caused by Candida species remained poor, but induction treatment with liposomal amphotericin B followed by maintenance treatment with long-term fluconazole was shown to improve survival.
A total of 46 cases of prosthetic valve endocarditis caused by Candida species from Spain and France were included in this study (median follow-up 9 months). Patient characteristics, disease characteristics, management, and outcomes were evaluated and compared among the cases.
Within 6 months of follow-up, the mortality rate for prosthetic valve endocarditis caused by Candida species was 34%.
Liposomal amphotericin B and echinocandin-based therapy were used as induction therapy in 21 and 13 patients, respectively. Compared with echinocandin-based therapy alone, liposomal amphotericin B treatment was associated with a better 6-month survival (adjusted odds ratio [OR] 13.52; 95% CI, 1.03-838.10).
Maintenance fluconazole therapy was used in 21 patients with minor adverse events (median duration 13 months).
Surgery was performed in 41% of cases and was more common in patients under the age of 66 years (adjusted OR 6.80; 95% CI, 1.59-29.13) or without cardiac failure (adjusted OR 10.92; 95% CI, 1.15-104.06). At 6-month follow-up, surgery was not associated with better survival.
The study authors concluded that the results "provide important new insight on the optimal management of [prosthetic valve endocarditis caused by Candida]. [Management] should be based on [liposomal amphotericin B] 'induction' treatment followed by fluconazole long-term 'maintenance' therapy. Surgery does not appear mandatory for frail patients or [for] those with uncomplicated endocarditis."
Reference
Rivoisy C, Vena A, Schaeffer L, et al; French Mycoses Study Group & Grupo de Apoyo al Manejo de las Endocarditis enEspaña (GAMES). Prosthetic valve Candida spp. endocarditis: new insights into long term prognosis - the ESCAPE study [published online October 25, 2017]. Clin Infect Dis. doi: 10.1093/cid/cix913