August 19, 2016
Unstable Vital Sign Noted in About One in Five Hospital Discharges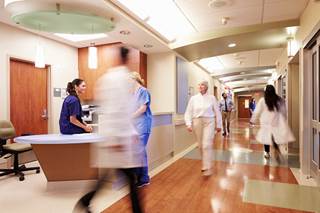 Busy nursing station at a hospital.
HealthDay News -- Among adults with a hospitalization, vital sign instability on discharge is associated with increased risk of 30-day mortality and readmission, according to a study published online in the Journal of General Internal Medicine.
Oanh Kieu Nguyen, MD, from the UT Southwestern Medical Center in Dallas, and colleagues conducted a multicenter observational cohort study involving 32,835 adults, aged 18 years or older, with a hospitalization to any medicine service at six hospitals.
The researchers found that 18.7% of participants were discharged with instabilities in one or more vital sign. Overall, 12.8% of those with no instabilities on discharge died or were readmitted, compared to 16.9, 21.2, and 26.0% of those with one, two, and three or more instabilities, respectively (P < 0.001).
The presence of any instability correlated with elevated risk-adjusted odds of death or readmission (adjusted odds ratio [aOR], 1.36; 95% confidence interval [CI], 1.26 to 1.48), with a stronger association for death (aOR, 2.31; 95% CI, 1.91 to 2.79). Compared to those with no instabilities, individuals with three or more instabilities had increased odds of death (aOR, 3.91; 95% CI, 1.69 to 9.06) and 30-day readmission (aOR, 1.36; 95% CI, 0.81 to 2.30).
"These simple vital sign criteria could be used to assess safety for discharge, and reduce 30-day mortality and readmissions," the authors write.
Reference
1. Nguyen OK, Makam AN, Clark C. Vital signs are still vital: Instability on discharge and the risk of post-discharge adverse outcomes. J Gen Intern Med. 2016; doi: 10.1007/s11606-016-3826-8.