September 21, 2018
Minimum Inhibitory Concentrations May Predict Risk of Relapse in Tuberculosis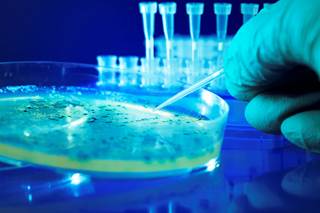 Investigators find that higher MIC values were associated with greater risk of relapse in tuberculosis infection.
Higher minimum inhibitory concentration (MIC) values of isoniazid or rifampin are associated with a greater risk of relapse in drug-susceptible tuberculosis than lower MIC values, according to study results published in The New England Journal of Medicine.1
Studies show that approximately 5% of patients with drug-susceptible tuberculosis relapse after 6 months of first-line therapy as well as 20% of patients after 4 months of short-course therapy.2-4 Researchers analyzed pretreatment isolates of Mycobacterium tuberculosis from patients who eventually had a relapse or were cured to determine whether there was a correlation between MIC of a drug below the standard resistance breakpoint (0.1 µg per milliliter for isoniazid and 1.0 µg per milliliter for rifampin) and the relapse risk after treatment using predictive relapse models.1
The researchers found that higher MIC values were associated with relapse and that MIC measurements may be useful in selecting patients who can safely be treated with shorter-duration regimens. The investigators demonstrated that the use of a model score for the MIC of isoniazid and rifampin to achieve 75.0% sensitivity in cross-validation analysis predicted relapse with a specificity of 76.5% in the development cohort and a sensitivity of 70.0% and a specificity of 100% in the validation cohort.
The investigators also found that lower MIC cutoffs for isoniazid and rifampin could be selected to enhance sensitivity with some loss of specificity if enhanced identification of relapse is desired. However, further studies are needed to determine the ideal treatment duration in patients at high risk for relapse, which may require more than 6 months of therapy. In addition, regimens that include higher-potency drugs at higher doses could be beneficial in the treatment of tuberculosis.
"In conclusion, we found that decrements of MIC values of isoniazid and rifampin that were below the standard resistance breakpoint in drug-susceptible M tuberculosis strains had an influence on treatment outcomes, with the risk of relapse increasing together with the MIC value," stated the investigators.1
References