November 20, 2017
Likelihood of Self-Administered Treatment Completion for Latent TB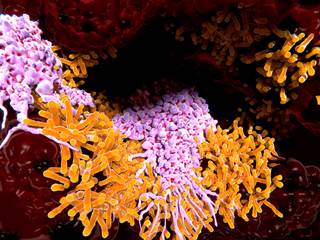 The transition from latent TB to active disease accounts for an estimated 86% of cases of active TB in the United States.
The self-administration of isoniazid and rifapentine once weekly had a noninferior completion rate compared with directly observed administration among patients with latent tuberculosis (TB), according to a study published in the Annals of Internal Medicine.1
A phase 4 randomized clinical trial (iAdhere [Adherence to Latent Tuberculosis Infection Treatment 3HP SAT Versus 3HP DOT]; ClinicalTrials.gov identifier: NCT01582711) enrolled a total of 1002 adults from outpatient TB clinics in the United States, Hong Kong, Spain, and South Africa referred for treatment of latent TB. Participants were randomly assigned to receive isoniazid and rifapentine under direct observation, by self-administration with monthly monitoring, or by self-administration with weekly text message reminders and monthly monitoring. Treatment was considered completed if patients took ≥11 doses during the 16-week course and had been monitored with clinical documentation and pill counts (direct observation) or self-reports, pill counts, and medication event-monitoring devices (self-administration).1
Rates of treatment completion in the self-administration groups were noninferior compared with rates in the direct observation groups for treatments performed in the United States (77% of all treatments), with rates of 85.4% in the direct observation group, 77.9% in the self-administration group, and 76.7% in the self-administration group with reminders.1
Noninferiority was not achieved in the overall population, with treatment completion rates of 87.2% for direct observation, 74.0% for self-administration, and 76.7% for self-administration with reminders.1
Adverse event rates were similar in the groups, with systemic drug reactions occurring in 4.2% of patients overall, hepatitis in 0.9%, and thrombocytopenia and neutropenia each in 0.1%.1
In an accompanying editorial, Haileyesus Getahun, MD, commented on the findings, noting that "a platform of shared decision making between patients and providers will be essential in identifying circumstances in which self-administration is likely to be successful."2
In an interview with Infectious Disease Advisor, Robert Belknap, MD, director of the Denver Metro Tuberculosis Control Program, Denver Public Health, and principal investigator of the Centers for Disease Control and Prevention TB Trials Consortium, stated that "TB remains a devastating and fatal infectious disease that is largely preventable. TB prevention had required long and often poorly tolerated treatment, which limited its effectiveness. Our study provides evidence for a shorter and more patient-friendly treatment for people with latent TB infection. We hope this will allow more people at risk for TB to get tested and treated so they do not develop TB disease in the future."
References
Belknap R, Holland D, Feng P-J, et al. Self-administered versus directly observed once-weekly isoniazid and rifapentine treatment of latent tuberculosis infection [published online November 7, 2017]. Ann Intern Med. doi: 10.7326/M17-1150
Getahun H, Matteelli A. Tailoring treatment of latent tuberculosis to the needs of patients and families [published online November 7, 2017]. Ann Intern Med. doi: 10.7326/M17-2639