July 06, 2017
Sepsis-Related Mortality Decreased With Rapid Implementation of Protocol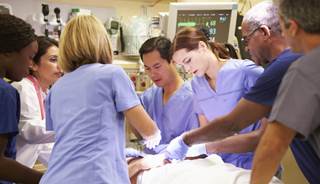 Study validates effectiveness of mandated protocols for sepsis.
Speedier completion of a 3-hour care bundle for sepsis required by the New York State Department of Health resulted in a lower rate of risk-adjusted in-hospital mortality, according to a study published in The New England Journal of Medicine. The administration of a broad-spectrum antibiotic, one of the elements in the mandated care bundle, was likewise linked to lower mortality, while the administration of an initial bolus of intravenous fluid, an element in a mandated 6-hour care bundle, was not.1
In 2013, New York became the first state to institute mandatory hospital protocols to facilitate the early recognition and treatment of sepsis. The regulations — called "Rory's Regulations" — were established in honor of Rory Staunton, a 12-year-old boy who died of sepsis following a basketball injury in April of 2012.2
The protocols include 2 sets of interventions that are meant to be completed within allotted times: 1) a 3-hour care bundle requiring a blood culture prior to antibiotic administration, measurement of serum lactate, and administration of broad-spectrum antibiotics within 3 hours of sepsis diagnosis; and 2) a 6-hour care bundle requiring a specified bolus of intravenous fluids, vasopressors for refractory hypotension, and re-measurement of serum lactate within 6 hours of protocol initiation.
Hospitals are required to submit detailed electronic patient-level case reports on each instance of sepsis and septic shock for use in monitoring adherence to the regulations. The study investigators, led by Christopher W. Seymour, MD, assistant professor in the departments of critical care and emergency medicine at the University of Pittsburgh School of Medicine, used data from the case report database to determine the association between the timing of treatment and risk-adjusted mortality in patients with community-acquired sepsis.
Among the 49,331 patients who met study criteria (which included the requirement that they received the 3-hour care bundle within 12 hours of sepsis diagnosis), 40,696 (82.5%) received the mandated 3-hour care bundle within 3 hours, with a median time to completion of 1.30 hours. Mortality rose with each hour until completion. The odds of in-hospital mortality were 14% greater for patients whose care bundle was completed during hours 3 through 12 compared with those whose care bundle was completed within 3 hours (odds ratio [OR], 1.14; 95% CI: 1.07-1.21; P <.001).
The researchers found that time to completion of the administration of broad-spectrum antibiotics was similarly associated with in-hospital mortality, with 14% higher odds of death in those who received antibiotics during hours 3 through 12 than those who received antibiotics within 3 hours (OR, 1.14; 95% CI: 1.06-1.22; P =.001). No association was found between time to completion of the bolus of intravenous fluid and in-hospital mortality (OR of death until fluid bolus was completed, 1.01 per hour; 95% CI: 0.99-1.02; P =.21)
"Sepsis is a public health crisis worthy of a policy response," wrote Tina Batra Hershey, JD, MPH, and Jeremy M. Kahn, MD, in an accompanying editorial. "Illinois, Pennsylvania, and Wisconsin are already in the process of issuing similar regulations, and the Rory Staunton Foundation, founded by the Staunton family, is actively seeking the implementation of sepsis-protocol mandates in every state by 2020. More direct efforts are needed to ensure that the government response to sepsis maximizes benefits, minimizes harms, and remains responsive to a complex and evolving evidence base."3
References
Seymour CW, Gesten F, Prescott HC, et al. Time to treatment and mortality during mandated emergency care for sepsis. N Engl J Med. 2017;376:2235-2244.
Rory's Regulations. Rory Staunton Foundation. https://rorystauntonfoundationforsepsis.org/rorys-regulations-full-legal-document/. Accessed June 28, 2017.
Hershey TB, Kahn JM. State sepsis mandates - a new era for regulation of hospital quality. N Engl J Med. 2017;376:2311-2313.