September 07, 2017
Closthioamide Inhibits Growth of Multidrug-Resistant Gonorrhea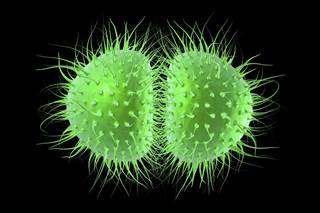 Closthioamide, isolated from Clostridium cellulolyticum, represents a new class of polythioamide antibiotics.
Closthioamide inhibits the growth of most clinical gonococcal strains in vitro, according to a new study published in Antimicrobial Agents and Chemotherapy.
Researchers tested the inhibitory effects of closthioamide in 149 clinical strains of Neisseria gonorrhoeae as well as 4 commensal Neisseria strains. The minimum inhibitory concentration (MIC) was calculated by agar dilution using closthioamide concentrations of 0.002 mg/L to 1 mg/L.
In 146 of the 149 clinical N gonorrhoeae strains, the closthioamide MIC was ≤ 0.125 mg/L. Among the various isolates, closthioamide MICs were 0.008 mg/L (n=1, 1%)), 0.015 mg/L (n=6, 4%), 0.031 mg/L (n=14, 9%), 0.063 mg/L (n=53, 36%), 0.125 mg/L (n=72, 48%), and 0.25 mg/L (n=3, 2%).
The closthioamide MICs in N lactamica and N perflava were 0.063 mg/L and 0.5 mg/L, respectively. Both N flavescens strains examined had MICs >1 mg/L.
No correlation was found between susceptibility to closthioamide and susceptibility to other antibiotics, suggesting a unique mechanism of action.
Dr John Heap, corresponding author on the study, said, "We thought it noteworthy that we did not observe cross-resistance with other antimicrobials including antibiotics currently used as treatments for gonorrhoea." He pointed out, however, that "polythioamides are not yet close to clinical application."
Reference
Miari VF, Solanki P, Hleba Y, Stabler RA, Heap JT. In vitro susceptibility to closthioamide among clinical and reference strains of Neisseria gonorrhoeae [published online August 7, 2017]. Antimicrob Agents Chemother. doi:10.1128/AAC.00929-17