February 07, 2017
Screening for Chlamydia and Gonorrhea Key to Decreasing PID in Women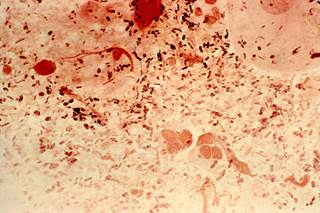 Gram-stained micrograph of a rectal smear specimen reveals the presence of diplococcal N gonorrhoeae bacteria. Photo Credit: CDC/ Joe Miller.
HealthDay News — About 2.5 million American women have had pelvic inflammatory disease (PID), according to research published in the US Centers for Disease Control and Prevention's Morbidity and Mortality Weekly Report.
Researchers from the CDC evaluated data from the US National Health and Nutrition Examination Survey from 2013 to 2014. This survey included 1171 sexually-experienced women between the ages of 18 and 44.
Overall, about 4.4% of American women said they had been diagnosed with PID. The team found that those who had 10 or more male sex partners experienced PID 3 times as often as women with a single partner. No significant differences in PID prevalence by age, race, ethnicity, or socioeconomic factors were seen.
"These findings highlight differences in reproductive health by sexual behaviors and sexual health history," the authors write. "Given the potential of asymptomatic infection to lead to PID and the substantial costs associated with treatment, it is important that clinicians follow chlamydia and gonorrhea screening recommendations for women to decrease the incidence of PID."
Reference
Kreisel K, Torrone E, Bernstein K, Hong J, Gorwitz R. Prevalence of pelvic inflammatory disease in sexually experienced women of reproductive age - United States, 2013-2014. MMWR Morb Mortal Wkly Rep. 2017;66:80-83. doi: 10.15585/mmwr.mm6603a3