February 02, 2018
Antibiotic-Resistant Gonorrhea: Prevention Strategies for a Growing Threat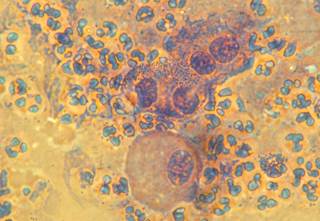 The CDC identified the first US cases of highly resistant gonorrhea in Hawaii in 2016. Photo Credit: Astrid & Hanns-Frieder Michler/Science Source.
The incidence of Neisseria gonorrhoeae infection is increasing globally and in the United States. The World Health Organization (WHO) estimates 78 million people are infected with N gonorrhoeae each year.1 The Centers for Disease Control and Prevention (CDC) estimates the annual incidence of gonorrhea in the United States at 820,000, with people 15 to 24 years of age accounting for 70% of new cases.2 The CDC reported an almost 19% increase in cases of gonorrhea from 2015 to 2016.3 The sharpest increase in new cases was among men who have sex with men.4
Accompanying the rise in new gonorrheal infections is a rise in antimicrobial-resistant cases. Over the years, strains of N gonorrhoeae emerged that were resistant to penicillin, tetracycline, and fluoroquinolones.1 This left extended-spectrum cephalosporins (ESCs) cefixime and ceftriaxone as the only antibiotics capable of curing the infection.5 Now, 50 countries have documented cases of gonorrhea that are resistant to ESCs.5 Several countries have also reported growing resistance to azithromycin, an antibiotic frequently combined with ESCs or given to patients who cannot tolerate ESCs.1 The CDC identified the first US cases of highly resistant gonorrhea in Hawaii in 2016; the patients had reduced susceptibility to azithromycin and ceftriaxone, but were all treated successfully when the drugs were combined.6 "The bacteria that cause gonorrhoea are particularly smart. Every time we use a new class of antibiotics to treat the infection, the bacteria evolve to resist them," explained Teodora Wi, MD, a medical officer with the WHO's Department of Reproductive Health and Research, in a press release.5
In women, gonorrhea is typically asymptomatic or produces only mild symptoms that are mistaken for less serious genitourinary infections.2 Men with gonorrhea may also have few signs or symptoms, the most common of which is discharge.2 The body often clears gonococcal infection spontaneously within weeks or months, and people may never realize they were infected.7 When gonorrhea progresses as a result of lack of treatment or insufficient treatment, serious complications may arise.2 In women, gonorrhea can spread to other reproductive organs, including the uterus, fallopian tubes, and ovaries, causing pelvic inflammatory disease.2,7 Chronic pelvic inflammatory disease is a painful condition that may lead to infertility or life-threatening ectopic pregnancy.2,7 When gonorrhea is transmitted from an infected mother to her infant during childbirth, the baby is at risk for blindness, joint infection, or fatal blood infection.2
In men, gonorrhea may cause epididymitis and infertility.2 Up to 1% of patients may develop disseminated gonococcal infection, which is associated with skin lesions, septic arthritis, tenosynovitis, and even fatal complications such as meningitis or endocarditis.2,7 Gonorrhea also increases the risk of contracting HIV in all patients.5
The Gonorrhea Pipeline
The WHO, which established the Global Gonococcal Antimicrobial Surveillance Programme in 1990 to monitor antimicrobial-resistant gonorrhea,1 is concerned about the limited number of drugs in the pipeline for treatment-resistant gonorrhea. Because gonorrhea treatment is brief (often only a single dose) and gonorrhea drugs are rendered ineffective relatively quickly after being introduced, many for-profit companies are not eager to pursue new gonorrhea therapies.5 The only investigational antibiotics for gonorrhea for which clinical trial data are available include solithromycin (CEM-101), a next-generation macrolide; zoliflodacin (AZD0914/ETX0914), described as a first-in-class DNA gyrase inhibitor; and gepotidacin (GSK2140944), a triazaacenaphthylene antibacterial compound.1,8
In a phase 2, open-label trial of solithromycin, all 46 patients with confirmed N gonorrhoeae were cured after receiving a single 1000- or 1200-mg dose of the oral novel drug.9 The most common adverse events were mild gastrointestinal issues.9 The positive findings provided the rationale for SOLITAIRE-U, a phase 3 clinical trial (ClinicalTrials.gov identifier: NCT02210325) comparing a 1000-mg dose of solithromycin vs standard treatment (injected ceftriaxone plus oral azithromycin) in uncomplicated gonorrhea.10 Preliminary data from SOLITAIRE-U were presented at the June 2017 American Society for Microbiology meeting, and showed 80.5% of patients (99/123) in the solithromycin group were cured vs 84.5% (109/129) of patients in the ceftriaxone/azithromycin group.11 Although the data established the noninferiority of solithromycin to standard treatment, the authors speculated that a higher dose of solithromycin might be needed to effect a 100% cure rate11 and planned to recruit additional participants.8
Zoliflodacin is being developed by Entasis Therapeutics in partnership with the WHO's Global Antibiotic Research and Development Partnership. In an in vitro study, zoliflodacin was found to be active against N gonorrhoeae isolates unsusceptible to fluoroquinolones and ESCs,12 which prompted a randomized phase 2 trial (N = 180) to compare zoliflodacin (2000 or 3000 mg) with ceftriaxone.13 Participants received a single dose of the assigned drug and returned 6 days later for follow-up testing. Overall, 91% of patients (52/57) treated with 2000-mg zoliflodacin achieved a clinical cure compared with 94% (46/49) in the 3000-mg zoliflodacin group and 96% (26/27) in the ceftriaxone group.13 The most common adverse events were diarrhea and headache. A phase 3 trial is planned.
Similar to zoliflodacin, gepotidacin was evaluated in an in vitro study for its efficacy against resistant strains of N gonorrhoeae.14 Gepotidacin showed activity against strains resistant to penicillin, ciprofloxacin, tetracycline, and azithromycin.14 A phase 2 trial compared the efficacy of oral gepotidacin 1.5 vs 3 g at treating uncomplicated gonorrhea in a cohort of 101 men and 5 women.15 In the subset of evaluable patients, the cure rate in the 1.5-g group was 97% (29/30) compared with 95% (37/39) in the 3-g group. The most common adverse events were mild to moderate gastrointestinal issues.
"We urgently need to seize the opportunities we have with existing drugs and candidates in the pipeline. In the short term, we aim to accelerate the development and introduction of at least one of these pipeline drugs, and will evaluate the possible development of combination treatments for public health use," Manica Balasegaram, MD, director of the Global Antibiotic Research & Development Partnership, said in a press release.5
Preventing the Spread of Gonorrhea and Resistance
In their article, Wi and colleagues emphasized the importance of making gonorrhea prevention a global priority.1 They encouraged more countries to adopt antimicrobial-resistant surveillance programs for gonorrhea and to share their data with the WHO Global Gonococcal Antimicrobial Surveillance Programme.1 The WHO said reducing new cases of gonorrhea depends on encouraging safer sex practices, such as "consistent and correct condom use," enabling earlier diagnosis, and using antibiotics appropriately.5 For example, health practitioners should confirm that symptoms such as urethral or vaginal discharge are caused by gonorrhea before prescribing antibiotics.
Mark Spregner, MD, PhD, WHO Director of Antimicrobial Resistance, said in a press release, "We need new antibiotics, as well as rapid, accurate, point-of-care diagnostic tests — ideally, ones that can predict which antibiotics will work on that particular infection."5 Point-of-care tests need to be affordable and accessible.1 Dr Balasegaram noted that reducing the transmission of drug-resistant gonorrhea requires making any new treatments available to everyone who needs them.5 Until new, more effective treatments are introduced, healthcare providers should update themselves on current CDC guidelines for treating gonorrhea. At this time, the CDC recommends dual therapy: a single 250-mg dose of intramuscular ceftriaxone plus 1 g of oral azithromycin.16 The CDC recommends advising patients whose symptoms persist for more than a few days after treatment to return for reevaluation.16
References