February 23, 2018
Current Ivermectin Schedule Does Not Cure Strongyloidiasis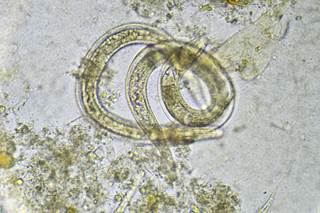 S stercoralis DNA was detected by polymerase chain reaction in all stool samples from all patients.
According to the results of a study published in Clinical Infectious Diseases, conventional treatment of Strongyloides stercoralis with ivermectin did not result in long-term elimination of S stercoralis among patients living in nonendemic areas.
In this observational study, 21 patients diagnosed with S stercoralis who currently lived in nonendemic areas were prospectively followed-up for up to 4 years (median, 730 days) after treatment with ivermectin (200 µg/kg once a day for 2 days). Patients were evaluated for S stercoralis reactivation using conventional methods (microscopy and agar plate culture with stool samples), polymerase chain reaction (PCR) with stool samples, and eosinophil counts.
S stercoralis DNA was detected by PCR in all stool samples from all patients. In contrast, conventional diagnostic methods identified larvae in 66.7% of patients at any point. DNA detection of S stercoralis in stool samples was not associated with subsequent larvae detection or clinical manifestations.
Parasitological reactivation based on conventional diagnostic methods was reported in 64.3% of immunosuppressed patients (n = 9/14) and in 71.4% of immunocompetent patients (n = 5/7), with no association between reactivation and immunological burden. At 15 days posttreatment, all patients had a reduced parasite burden based on conventional diagnostic methods, but parasitological reactivation was detected beginning at 30 days posttreatment. A total of 8 patients had >1 reactivation after additional rounds of ivermectin.
Eosinophil counts decreased 30 days posttreatment, but eosinophil counts were not associated with parasitological reactivation. Among chronically infected patients, asymptomatic eosinophilia was the most common clinical manifestation.
The study authors concluded that "persistence of parasite DNA detection by PCR among our patients with such high rates of recurrence of larvae detection in stool samples strongly indicates the ineffectiveness of ivermectin at eliminating the parasite from the host. Therefore, a high sensitivity technique such as the conventional PCR can be suitable for early diagnosis but not for the posttreatment monitoring of S. stercoralis infection."
Reference
Repetto S, Ruybal P, Batalla E, et al. Strongyloidiasis outside endemic areas: Long-term parasitological and clinical follow-up after ivermectin treatment [published online January 19, 2018]. Clin Infect Dis. doi: 10.1093/cid/cix1069