January 30, 2017
Screening Tools Ineffective in Diagnosing Chikungunya in the Elderly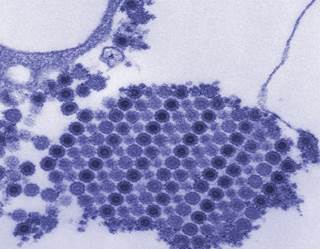 TEM image depicting numerous Chikungunya virus particles. Photo Credit: CDC/Cynthia Goldsmith, James A. Comer, and Barbara Johnson.
Two screening mechanisms designed specifically for the detection of the Chikungunya virus — the Mayotte tool and the Reunion Island tool — were recently shown to perform "poorly" in at-risk populations older than the age of 65. In a study published in PLOS Neglected Tropical Diseases, these 2 tools, which performed well in populations aged 18 to 65 years, were shown to have poor sensitivity in older people despite good to excellent specificity.1
Lidvine Godaert MD, from the department of geriatrics at the University Hospitals of Martinique, and colleagues from multiple investigation sites in France retrospectively evaluated data from 687 patients aged 65 and older who were admitted to acute care settings or emergency departments in Martinique for suspected Chikungunya virus infection (CVI) from early January through December 2014.1 The study was deliberately powered to match a prevalence of CVI previously determined to be approximately 28%.2
CVI was not associated with a high mortality rate until the outbreak of 2005 to 2006 on Reunion Island, a French territory in the Indian Ocean in which an estimated 266,000 people out of a total population of 770,000 were infected.3 Although many cases of CVI were not laboratory diagnosed, the death rate on the island during that period increased significantly, suggesting a more virulent clinical course than originally believed. A study by Borgherini et al4 confirmed 5 fatalities among 157 cases diagnosed, and another study by Economopoulou et al5 retroactively identified 65 deaths out of 222 severe cases of CVI during the outbreak. The real mortality rate was presumed higher, although it could not be specifically quantified.
Economopoulou and colleagues also reported on 565 individuals who presented with serious underlying conditions and many symptoms that had never before been associated with CVI. They found an all-cause mortality rate among the infected population of 10.6%, which increased with age. 5
The majority of patients in the Godaert study presented with fever (73.1%) and/or arthralgia (51.4%) of the knee (22.3%) or ankle (19.1%) as the primary symptoms. While the specificity ranged from 81% to 95% for the Mayotte tool and 97% for the Reunion Island tool, sensitivity in this age ranged from a low of 6% for fever with headache to a high of 49% for fever with polyarthralgia. Youdin's Index, designed to measure specificity plus sensitivity, ranged from 1% for fever with headache to 30% for fever with polyarthralgia, based on a perfect score of 100%.
The investigators gave a number of reasons for this inadequate finding, including differences in the presentation of older patients who usually have one or more chronic conditions with symptoms of fever and arthralgia that may mask symptoms of CVI. Misdiagnosis or perception of exacerbation of an existing diagnosis are more common among the elderly and may delay identification and prompt treatment of CVI.
References