March 30, 2018
Malaria Therapy During Pregnancy Needs a Translational Booster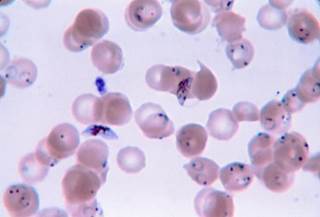 WHO recommends that women who have uncomplicated malaria infected with P falciparum during the first trimester take quinine with clindamycin for 7 days. Photo credit: CDC.
Malaria research has kept pace, but clinical practice in areas where the disease is endemic has not. Now that the World Health Organization (WHO) is reviewing treatment guidelines for the first trimester in pregnant women, clinicians are deciding how to implement them locally.1
In 2016, there were 216 million cases of malaria, which an increase as a result of increasing resistance to antimalarial drugs.2 Of particular concern are the populations most at risk: infants, children younger than 5 years, pregnant women, and patients with HIV/AIDS, as well as nonimmune migrants, mobile populations, and travelers.2 Each year, almost 500,000 people die of the disease.2 Children younger than 5 years account for 70% of malaria deaths worldwide.2
In pregnancy, physiologic changes such as drug absorption, metabolism, and excretion make treatment difficult because these changes can under- or overexpose women and their infants to antimalarial drugs.1 Untreated malaria in pregnancy can result in miscarriage, premature or stillbirth infants, low birth weight, and maternal death.1
Why Testing Pregnant Women Is Challenging
The tests used to detect circulating parasite antigens in placental malaria are less than perfect.1 A 49-study systematic review found that the rapid diagnostic tests had a sensitivity of 81% (95% CI, 62%-92%) and a specificity of 94% (95% CI, 76%-99%).3 Polymerase chain reaction had a sensitivity of 86% (95% CI, 65%-95%), but a specificity of only 77% (95% CI, 71%-82%).3
Although testing for malaria is essential, it is also difficult because most infections during pregnancy are asymptomatic as a result of low parasite density, which is not easily detected by microscopy.1 The best-equipped microscopy laboratories can detect malaria at a threshold of 15 parasites/μL blood, and rapid diagnostic tests can detect the disease at a threshold of 200 parasites/μL.1
Uncomplicated Malaria Therapy
WHO currently recommends that during the first trimester, women who have uncomplicated malaria who are infected with Plasmodium falciparum take quinine with clindamycin for 7 days.4 If the malaria infection is caused by a species other than P falciparum, chloroquine is the agent of choice.4
First trimester treatment, however, could change with the results of 1 of the most robust meta-analyses to date that compared artemisinin-based therapy vs quinine in during the first trimester.5 The 5-study meta-analysis included 30,618 pregnancies, 4 studies from Africa, and 1 study from Thailand. Dellicour and colleagues found no difference in miscarriage (adjusted hazard ratio [aHR], 0.73; 95% CI, 0.44-1.21; P =.228) or stillbirth (aHR, 0.29; 95% CI, 0.08-1.02; P =.053) with 3-day artemisinin therapy compared with 7-day quinine therapy.5
Jenny Hill, PhD, from the Liverpool School of Tropical Medicine in the United Kingdom, said, "The policy update is planned for online release in March 2018 as an online pdf version of the WHO malaria treatment guidelines (third edition), and a full review of the WHO treatment guidelines and publication of a new/fourth edition is anticipated for 2020. The team at [the Liverpool School of Tropical Medicine] and partners are working with WHO to support subsequent dissemination to policy makers and practitioners at the country level."
Indeed, an earlier study examining the safety of first-line treatment for malaria in adults revisited the use of artemisinin-based therapy during the first trimester.6 The observational study of 25,485 pregnancies, 10% of which resulted in first trimester malaria, found no difference between artemisinin-based treatments (n=183) vs quinine (n=842; HR, 0.78; 95% CI, 0.45-1.34; P =.3645) in risk for miscarriages. The risk for major congenital malformations was 2% for artemisinin therapy (2 of 109; 95% CI, 0.22-6.47) compared with 1% for quinine therapy (8 of 641; 95% CI, 0.54-2.44).6 Given that women are more likely to miscarry if they are not treated for malaria during the first trimester, and that 3-day artemisinin-based treatments are more tolerable than the 7-day quinine regimen, the former ought to be adopted as first-line therapy during the first trimester.6
The artemisinin safety study signals that "it is malaria, not antimalarials, that causes significant negative impact to the fetus, and physicians should not withhold artemisinins from a pregnant woman for fear of detriment to the fetus," explained Rose McGready, coauthor and professor of tropical maternal and child health at the Shoklo Malaria Research Unit, Mae Sot, Thailand. "The artemisinin derivatives are at least as safe as quinine, better tolerated, and with greater efficacy, reducing the chance of failure and the negative impact of recurrent infections."
Both first trimester studies "have resulted in sufficient evidence to lift restrictions on artemisinins in the first trimester of pregnancy, an item being addressed by WHO; ie, translation of research into policy change; but this is not yet official," said Dr McGready.
To treat P falciparum malaria in the second and third trimesters, WHO recommends that pregnant women receive the same treatment as all adults.1,4 First-line treatments include artemisinin-based combination therapy such as artemether-lumefantrine, artesunate-amodiaquine, artesunate-mefloquine, dihydroartemisinin-piperaquine, or artesunate plus sulfadoxine-pyrimethamine.4 For women infected with Plasmodium vivax malaria, any artemisinin-based combination therapy with the exception of artesunate plus sulfadoxine-pyrimethamine is recommended.4
Treating Severe Malaria
Malaria complicated by edema and hypoglycemia poses an even greater challenge for clinicians.1,4 The evidence base is scant, with only 10 studies that examined treatment against P falciparum infection in pregnant women with severe malaria.1,4
Regardless of the trimester, treatment involves intensive care and parenteral antimalarial therapy, with intravenous artesunate as first-line therapy.1,4 For women infected with severe malaria with pathogens other than P falciparum, the treatment is no different because there is no evidence to the contrary.1,4
Future trials in pregnancy in malaria will investigate women with HIV. "We are undertaking two multicenter clinical trials to evaluate the use of dihydroartemisinin-piperaquine for intermittent preventive treatment to prevent malaria during pregnancy in HIV-infected and -uninfected women," said Dr Hill.
Summary and Clinical Applicability
During the last decade, evidence for treating malaria during all stages of pregnancy has greatly increased. The challenge is testing asymptomatic women during pregnancy and treating them during the first trimester. Guidelines for first trimester treatment from the World Health Organization are forthcoming.
References